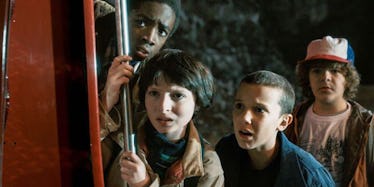 'Stranger Things' Executive Producer Reveals Who Is At The Center Of Season 2
Netflix
The plot of the second season of "Stranger Things" is being kept under wraps until the premiere this Halloween, but we're getting some big clues about what fans can expect from the new run of episodes -- and that includes the new main character!
The show's executive producer Shawn Levy revealed to Mashable that Season 2 will focus prominently on Will Byers, a character who was absent throughout nearly the entirety of Season 1.
Though we barely see Will in the first season after he's held hostage in the Upside Down, his disappearance does drive the action of the season, and he connects all the main characters (his Dungeons & Dragons friends and the Byers family).
Levy says that unlike Season 1, Will is going to be front and center throughout Season 2.
Will Byers is very much at the center of Season 2. Noah [Schnapp] steps up in the most staggering way. The Duffers and I, depending on who's directing when, we keep sending texts to each other going, 'Holy shit, Noah is crushing it' and we knew he had it in him, and it's really now to get in that moment, and put him firmly in the thick of story.
The last few moments of the Season 1 finale also suggested there's going to be a major story involving Will in Season 2.
Everything seems to go back to normal after his family and friends rescue him from the Upside Down, but then we see Will cough up a slug-like creature in the bathroom! Clearly, there's still some supernatural stuff going on with that kid.
Along with Will Byers actor Noah Schnapp jumping up from recurring to a main role for the new season is Joe Keery, who plays Nancy's coiffed boyfriend Steve Harrington. So get ready for a lot more Will and a lot more Steve in "Stranger Things" Season 2.
The second season of "Stranger Things" premieres on Netflix this Halloween.
Citations: 'Stranger Things' bosses had 'too much story' for Season 2, so we're already pumped for Season 3 (Mashable)