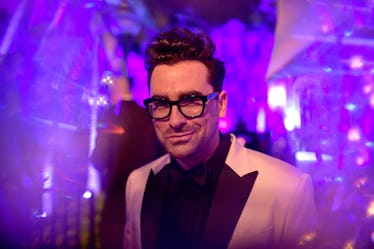 Dan Levy's New Show Sounds Wildly Different From Schitt's Creek
However, his character may have some classic David Rose sass.
Matt Winkelmeyer/VF20/WireImage/Getty Images
When Schitt's Creek ended, it did so at the height of its popularity. The Emmys sealed its cultural juggernaut status later that year by rewarding the long-overlooked series with a historic landslide, taking home all seven awards in the comedy category. For series co-creator and star Dan Levy, it was merely a matter of time before someone eagerly snatched up his next project, and Hulu was right there to do it. The resulting show doesn't seem much like Schitt's Creek at all, but it does seem a lot of fun: Standing By, an animated series, will feature Levy in a whole new role.
After releasing Schitt's Creek's final season, Levy has kept things relatively quiet. Besides appearing on Saturday Night Live and some high-profile commercials, Levy has spent his time quietly writing behind the scenes. And the work has paid off, as his first series since Schitt's Creek has been picked up by Hulu in a straight-to-series deal. (That's a fancy way of saying he didn't have to make a pilot episode before the streaming service agreed to a whole season.) But there's a twist that viewers might not be expecting. The new series isn't live-action. Instead, it's an animated comedy.
But even though Levy won't be personally appearing on screen, his cartoon alter-ego will. Here's everything for fans to know about Standing By:
Standing By Plot
If Schitt's Creek was a story about a family bound by its earthly desires (mostly a desire to get out of Schitt's Creek), Standing By is all about the heavenly pursuits. The new series is set on Earth but among the angels — as in, the ones who are stuck here, looking after humans as their guardians.
Standing By is a satirical look into the lives of a group of eternally bound, disgruntled guardian angels and the lessons they'll eventually learn from not only the dysfunctional humans they're in charge of protecting but also each other.
Standing By Cast
Levy will star in the series as Carey. He's a newly deceased, vaguely cynical newbie in the group who is just coming off living a lonely, isolated life in New York City and isn't so sure this is his idea of heaven. In fact, he sounds a bit like David Rose, stuck in a place where he doesn't fit in, trying to figure out how he got there.
With the show newly greenlit, the rest of the cast is not set as of yet. Hulu will likely announce who with join Levy's series in the coming months.
Standing By Trailer
With the series only just going into production, there's no trailer yet. Most of Hulu's animated series don't get trailers until close to the release date, so fans may have to wait a while.
Standing By Release Date
Standing By is part of a new slate of adult animation from Hulu, to go along with series like Solar Opposites and Animaniacs. The former will get a fourth season, expected to arrive in the spring of 2022, which is when Animaniacs Season 2 is also expected to arrive. Although there is no release date for Standing By at this time, it's a pretty good bet Hulu will want to have the series ready to go around the same time.