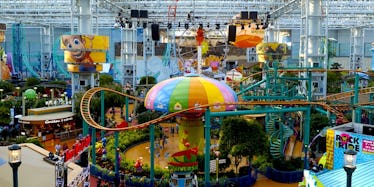 This New Nickelodeon Theme Park Will Give You The Chance To Visit SpongeBob
Shutterstock
Cancel every single one of your plans, people. A massive new Nickelodeon theme park is on its way.
You may soon be looking for the quickest route to New Jersey in the next couple of years. It turns out Nickelodeon is crafting a huge indoor theme park featuring a bunch of new rides related to your favorite cartoon characters.
Nickelodeon Universe, which is set to open in 2018, will be located at the American Dream shopping and recreation center in New Jersey.
Wait, this epic news calls for a little celebratory dance...
According to CBS Philly, the 8.5-acre theme park will trump the size of the current Nickelodeon theme park at the Mall of America in Minnesota.
As a matter of fact, the new park will officially become the BIGGEST indoor theme park in the United States once it's completed.
This means more rides, more life-size NickToons and more fun. I don't know about you, but my inner '90s kid can barely handle the excitement!
The photos below, which are of the current Nickelodeon Universe in Minnesota, should help you visualize what the new 8.5-acre park will look like.
There's a massive Nickelodeon theme park coming to the United States in 2018.
The park will be located at the American Dream shopping and recreation center in East Rutherford, New Jersey.
Who wouldn't want to hang out with their favorite Nickelodeon characters?!
Hey, adulthood might not be so bad after all...
It will also be based on the current Nickelodeon Universe located at the Mall of America in Bloomington, Minnesota.
Life-size SpongeBob SquarePants? Sign. Me. Up.
Don't forget the slime.
It's quite literally fun for the whole family.
If the existing Nickelodeon Universe looks this awesome, who knows what we'll be in store for when 2018 rolls around.
We might not have an official date for the grand opening of this theme park masterpiece, but it's comforting enough to know that it's all in the works.
Nickelodeon Universe won't be the only addition to the American Dream shopping and recreation center.
The 3 million-square-foot property will also feature an aquarium, an ice skating rink, a mini golf course, a massive 1,500-seat theater, a 16-story indoor ski park and over 450 retail stores.
It's safe to say that if you happen to be in the tri-state area in a couple of years, you'll be spending A LOT of your time there.
Citations: Nickelodeon is Getting Its Own Theme Park, Finally! (Seventeen), Giant Nickelodeon Theme Park Coming To New Jersey (CBS Philly)