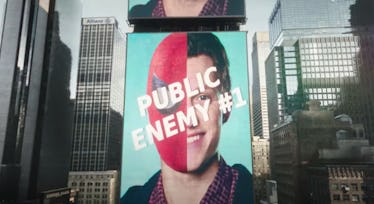 The New Spider-Man: No Way Home Trailer Brings In A Multiverse Of Villains
Marvel Studios
The Marvel Cinematic Universe did something genuinely remarkable with The Infinity Saga, as it's now called. Faced with the challenge of building a franchise without its two most popular character sets, the X-Men and the Spider-Verse, it set about turning B-listers like Iron Man and Captain America into household names. But even though the MCU has succeeded beyond anyone's wildest expectations, Spider-Man remains its biggest draw. That's why fans are hanging onto every fact about the franchise's upcoming project, Spider-Man: No Way Home, that they can.
Before the MCU even existed, Sony was the leading production studio in making Marvel films. The release of the original Spider-Man starring Tobey Maguire as the titular webslinger in 2002 was arguably the moment the superhero craze of the last two decades took off. (Meanwhile, the failure of 2006's original Spider-Man 3 is supposedly what inspired Marvel to start its own studio.)
But even though the MCU has thus far treated current star Tom Holland as *the* canonical Spider-Man, sweeping the older franchises under the rug, fans haven't been so quick to let go. Moreover, the recent rumors point to a film that will tie all three Spider-Man versions to appear on the big screen thus far into one happy family.
However, despite the hype, Holland has insisted the rumors aren't real. But with the multiverse already introduced in the recent Disney+ series Loki, it seems like some crossover from the original Spider-verse was inevitable. Here's what's known so far:
Fans can rent the first two installments of Tom Holland's Spider-Man series, Homecoming and Far From Home, via Amazon. The earlier Spider-Man films starring Tobey Maguire and Andrew Garfield are available via the STARZ add-on on Hulu. All other MCU films (save The Incredible Hulk) and streaming series are available via Disney+.
This article was originally published on