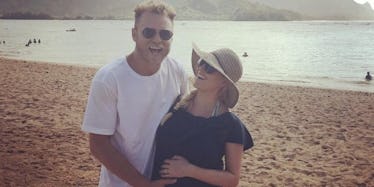 Spencer Pratt's "Look What You Made Me Do" Video Is The Best Thing You'll See Today
Instagram/@HeidiPratt
Stop everything you're doing immediately. Spencer Pratt's "Look What You Made Me Do" video is here for your viewing pleasure and you definitely won't be mad that you took time out of your day to watch it. The former Hills star took to social media to unveil his visual interpretation of Taylor Swift's new song, because why wouldn't he? The resulting montage is a feast for the eyes. Bravo, Speidi, bravo.
Let's unpack this truly inspired optic hodge-podge, shall we? There are some awkwardly slow and jerky dance moves, random close-ups of Spencer sipping espresso, and a motorcycle.  There's also a nice allusion to "soup life" (translation: Spencer eats soup with the caption soup life) and plenty of imagery featuring Pratt's obsession of late: hummingbirds. Adorable Heidi also makes an appearance in a few shots, sporting multi-colored hair and her baby bump, dancing to the Swift jam with a pint of ice cream in tow. Fun! Can you believe that this is the couple born out of The Hills that actually survived the test of celebrity time? Actually, we can. They're clearly perfect for one another. Who else would make a lip sync video to a pop song du jour that heavily features hummingbirds getting fed? Iconic.
Taylor Swift dropped her official vid for "LWYMMD" at the VMAs this past Sunday. And we thought that was a lot to take in...
Perhaps Spencer's version is a very delayed response to this classic Hills moment? Yeah, probably not, but we couldn't not mention it.
In addition to making sure hummingbirds receive enough nutrients, Spencer sure has been keeping busy lately. He and Heidi are expecting a baby boy this fall. He's still got a big fondness for healing crystals and continues to compete in Jui-Jitsu.
Honestly, if you're not following Spencer Pratt on social media, you're missing out on a whole lot of glorious content. Don't say we didn't warn you.