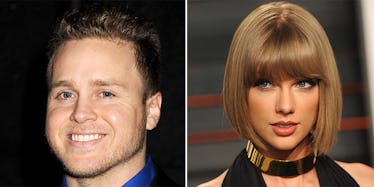 Spencer Pratt Has A Lot Of Feelings About Taylor Swift And Tom Hiddleston
REX/Shutterstock
It's been an emotionally stirring week in the world of celebrity relationships, and Spencer Pratt is here to help you work through it all.
Like most of us, he harbored major skepticism throughout Taylor Swift's relationship with Calvin Harris.
Calvin was all right, but Taylor Swift is America's sweetheart/potentially the ghost of whatever demure, animal-whispering villager inspired the creation of "Snow White."
We feel the need to protect her and her teeny glass elbows from danger and unworthy men, even if she is more successful and powerful than the rest of us by infinite degrees.
Spencer told Cosmopolitan,
I've been trying to figure out who T-Swift should rebound with ever since before she even broke up with Calvin; I knew he wasn't good enough for her. I never liked his smug attitude; the whole time he was with her, he always seemed like it wasn't anything special to be with Taylor Swift. I didn't like it from the jump. So I was always like, 'Who can Taylor Swift do better with?'
Well put, Spence.
I am among the unpopular minority shouting, "DATE YOURSELF, TAY TAY," from the rooftop, but Taylor cannot hear me from my rooftop. We live in different parts of the city -- based largely on income. Also, I live in a co-op that does not allow me roof access.
[Calvin] never looked giddy enough to be [with] T-Swift.
Admittedly, the level of unabashed disinterest displayed by Calvin over the course of his relationship with the "New Romantics" singer was occasionally off-putting.
Spencer added,
I don't know what his deal is — he never looked giddy enough to be [with] T-Swift. He always acted like, 'Ugh, I'm a superstar DJ. I perform for big shows. Untz untz untz.' … but I think now, he's seeing that she went to where she belongs, in A-list category.
Tay's budding romance with actor Tom Hiddleston gives Spencer hope, like a small, flickering light in a world of shadows.
He explained,
After all the horrible news lately, we needed something good. I was gonna unplug my WiFi; I was gonna go dark. But Taylor, you know, she brought us about of the woods… [Tom] is… such a hardcore, serious actor. He's not trying to jump into tabloids with Taylor… He said in some interview that he saw a few of her videos and he thought she was charming and, I was like, 'A few of her videos?!' A guy like that is not watching, with all due respect, music videos on set between takes unless he really fancies her, as the Brits would say.
But how did Taylor make the official transition from Calvin to Tom? Spencer has a good enough idea of what went down.
He hypothesized,
She met the next James Bond with his British accent, and he was talking all smart to her, doing his special dance moves, and then she came home to Calvin being all, 'Untz untz untz, can't talk right now; I'm making a beat,' and she was like, 'Uh, this isn't working. Don't touch my cats.'
Accurate. Any other reality is unimaginable.
I don't want to judge T-Swift.
Though the former star of "The Hills" believes the new couple (Hiddleswift? Swiftleston? Tomlor?) is "100 percent real," he agrees the paparazzi shot that set the world buzzing about their status seems shamelessly staged.
Spencer said,
I think someone on one of their teams may have tipped off the paparazzi… Then again, she's Taylor Swift and there have to be people who see her walking to the beach and call a tabloid. But, if that's the case, we haven't seen any fan pics, and that's what makes me think it's an exclusive [to the paparazzi]. We would see more parking lot shots from fans, and stuff like that… It's definitely a staged photo, don't get me wrong… I don't want to judge T-Swift; maybe she didn't know, but I think one of them did it. It actually might be Taylor Swift.
Given the tumultuous nature of many of Tay's past relationships and breakups, it can be difficult for fans to let ourselves get our hopes up for the success of a new one.
Luckily, Spencer feels optimistic.
When asked whether he thinks Tom and Taylor have a real shot at a future together, he said,
I think so! When I saw them together, I was like, 'Here we go!' This is somebody who can keep her interest. He could go win an Oscar. He doesn't look too old and he doesn't look too young; he looks like husband-type material to me. I just feel like that's the level; she needs to be going to the Oscars with him, and not iHeartRadio with Calvin.
If Spencer is right, Taylor Swift may have finally solved love, once and for all.
Citations: Is Hiddleswift Real or Fake? Spencer Pratt Gives His Verdict! (Cosmopolitan)