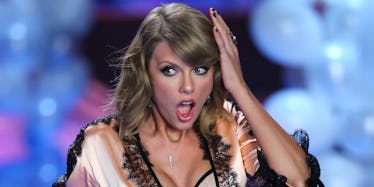 Taylor Swift Allegedly Has A New Boyfriend And You Won't Believe Who It Is
REX/Shutterstock
Just weeks after breaking up with Calvin Harris, Taylor Swift is allegedly back in the dating game AND going steady with a new guy. If this isn't the textbook definition of BREAKING NEWS, then it definitely should be.
According to UK tabloid The Sun, the uber-famous pop star was seen making out with "Crimson Peak" actor Tom Hiddleston recently in Rhode Island. As if that's not damning evidence enough, last month T Swift was also seen publicly dancing with Hiddleston at the Met Gala in New York City.
As you can see in the Instagram video below, they were pretty cozy even then.
According to People, multiple sources said in the aftermath of Taylor Swift's breakup with Calvin Harris that there was "no drama" involved and neither cheated. While that now seems dubious in light of these recent developments, there are even more pressing questions at stake.
For instance, when will Taylor have time to write a breakup album if she's already back in a relationship?! If this relationship is just a fling, can we expect back-to-back breakup albums?? The world NEEDS to know.
Until then, we'll just have to keep our eyes peeled and ears open.
Citations: New Couple Alert? Taylor Swift and Tom Hiddleston Photographed Kissing in Rhode Island (People)