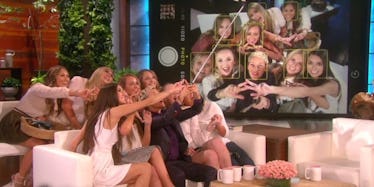 The 'Baseball Selfie' Sorority Girls Obviously Took A Selfie On 'Ellen' (Video)
It's a well-known fact that Ellen DeGeneres loves selfies, so it isn't too surprising she invited the "baseball selfie" girls to appear on her show.
At the end of September, during an Arizona Diamondbacks baseball game, a group of young women were spotted in the audience ignoring the game and playing with their phones.
The girls were found to be part of Alpha Chi Omega Sorority at Arizona State. They spent their evening texting, taking selfies and posing with their food.
The girls received a lot of criticism for their behavior after a video of the television sportscasters poking fun at the girls went viral.
Recently on "The Ellen DeGeneres Show," the girls discussed how they used the attention they received  to gain support for their sorority's philanthropy for domestic violence.
Of course, their chat concluded by posing with Ellen for an epic selfie. I mean, how could it not? It's Ellen!
You can watch the full interview in the video above. Peace, love, selfies.