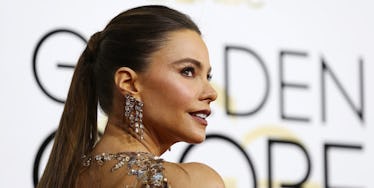 Sofia Vergara Says 'Anal' At The Golden Globes, No One Knows If It's A Joke
REUTERS
Welp. There's a reason the Hollywood Foreign Press Association doesn't award a Golden Globe for Best Introduction at a Televised Award Ceremony, and that reason, tonight at least, is buttholes.
Sofia Vergara took the stage to introduce this year's Miss Golden Globes, but either tripped over the word "annual" or chose to purposely liven up the broadcast with some butt play.
.@SofiaVergara introduces our Miss Golden Globe Trio, @sophiastallone, @sistinestallone and @scarletstallone! #GoldenGlobes pic.twitter.com/kCldHHJERn — Golden Globe Awards (@goldenglobes) January 9, 2017
Sofia told viewers,
Good evening. The Hollywood Foreign Press Association has an anal tradition -- sorry, I didn't mean anal. They have an anus tradition -- they have a tradition that they do every year of choosing a second generation performer to assist in the presentation of the awards. To fulfill the duties of Miss Golden Globe tonight are the three talented and beautiful daughters of Sylvester Stallone and Jennifer Flavin: Scarlet, Sistine and Sophia Stallone. Bravo.
BOLD MOVE, SOFIA.
While it remains unclear whether Sof's initial shitter shoutout was intentional, Twitter is here for it.
Some users criticized the "Modern Family" actress's use of lewd humor to introduce three young women, one of whom (Scarlet, 14) remains underage.
The Golden Globes' decision to tweet a video of Sofia's blunder on its official Twitter account suggests the line was written intentionally ahead of time as a language barrier joke.
Several viewers, according to reactions online, are tired of watching the SAG Award winner forced to deliver the same bit, especially after establishing herself as a successful member of the film and television industry.
Regardless of whether Sofia's bit was planned or a spontaneous reaction to an earnest mispronunciation, y'all know we're going to let this one slide.
It's Sofia Vergara. She's one of a very few true, pure, bright spots in an otherwise grim and sinister world.
Let her run through the streets of town shouting "ANAL" all night long. Come morning, we'll still love her.