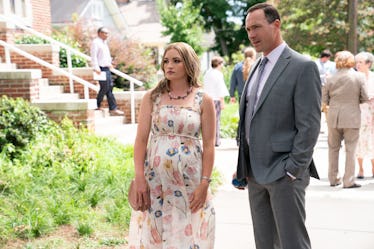 21 Shows Like Sweet Magnolias For The Perfect Mix Of Comfort And Drama
Get your margaritas ready.
Eliza Morse/Netflix
There's something so great about watching TV shows that make you cry. Yes, there may be tears, but getting all of your emotions out can feel like a release. That's likely a huge reason why, when Sweet Magnolias — a dramatic series about three women's lives in the South — debuted on Netflix in May 2020, it immediately went to to Netflix's "Top 10 In The U.S. Today" list. Between the heartfelt moments of friendship and dramatic relationship complications, there were tons of moments that got audiences in their feels. For those who keep re-watching all the episodes, here are some shows like Sweet Magnolias that will have you laughing, crying, and feeling all warm inside.
If you're a fan of the more upbeat moments in Sweet Magnolias, you may enjoy comedies like Gilmore Girls or Reba, which are as funny as they are deep. If you're more into watching the sentimental scenes that unfold between friends, something like A Million Little Things or Northern Rescue may be more up your alley. Or, if you're simply looking for something that documents life in a small town in the South — for one reason or another, there's a big market for these types of shows — something like Hart of Dixie might be exactly what you need.
Sweet Magnolias Season 2 is one of Netflix's highly anticipated February releases. But if you blaze through the series like many fans do, here are more shows to check out — many of which are available with a streaming service or for purchase on popular platforms.