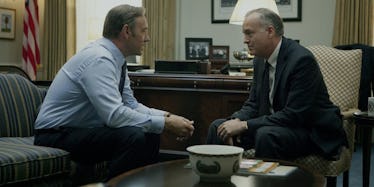 3 Shows To Binge That Prove Politics Are As Insane As They Seem
Netflix
As the 2016 elections heat up, news headlines about the candidates can seem so ridiculous that they could have been pulled from a TV plot. Although real life can be crazy, the scripted version of government happenings provides even more entertainment. Luckily, with multiple streaming options available, you can get your daily dose of (fictitious) government plot lines without ever leaving the comfort of your bed.
Of course, not all shows are created equal. Not all serve the same purpose, and not all of them show politics in the same light. While some make you believe that elected officials are honest, competent, passionate workers, other shows lead you to believe the people charged with running the country are devious, idiotic or both.
What you watch shapes how you'll look at the actual breaking news, and it could have you viewing the 2016 presidential election through a more dramatic lens. When watching the actual news gets to be too much, these government-themed shows will rile you up, make you laugh, cry and maybe even make you think about the pros and cons of having no government at all:
1. "House Of Cards"
Netflix's original series "House of Cards" paints government in the darkest, most unflattering light. It follows ruthless politician Frank Underwood, played by Kevin Spacey, as he manipulates his way to the top, often breaking laws and disregarding ethical conduct to achieve his goals.
We can only hope politicians don't resort to the same devilish tactics as the power-hungry Underwoods, but in fiction, it makes for a captivating and haunting TV show. With the fourth season set to premiere in March of 2016, now is as good a time as ever to catch up on the Machiavellian Underwoods.
Just know that binge-watching this drama will fill you with skepticism and paranoia about the truth. If you ever get the feeling that what you hear from the press and on the debate stage is the polished, PG-rated version of something much more malicious and dubious, this is the show is for you.
2. "The West Wing"
Although the show came off the air in 2006, Aaron Sorkin's political drama is a favorite of viewers to this day (including a large crop of politicians who admire the show's attention to detail). The show centers on a group of White House senior staff officials and the president, working tirelessly to try to achieve their policy goals and make the country a better place.
The episodes have snappy writing, fast-paced dialogue and are chock-filled with suspense. The staffers are more of a family than a group of co-workers.
They are flawed, angry and overworked, but they are optimistic about what they can achieve if they work hard enough. As one of the characters, Sam Seaborn mentions to a new staffer, who is alarmed at how quickly change happens in the West Wing, that they play with live ammo.
"The West Wing" is a realistic, detailed and hopeful look at government that has become increasingly rare with newer political TV shows. If the barrage of negative news, unbelievable comments and large-scale blunders currently plaguing our political reality have caused you to lose faith in the political process, watching a few episodes of "The West Wing" will restore said faith.
It's the show to binge if you're looking for reassurance that everything will end up OK, even if there are bumps along the road. It's also the show with the most well-rounded, realistic characters, making it easy to see aspects of yourself on screen, whether it be in snarky Toby Ziegler, or in the caring Donna Moss. "The West Wing" is currently available on Netflix.
3. "Veep"
If "House of Cards" is the darkest version of government, and "The West Wing" is the most optimistic perspective, then "Veep" is the most honest. This HBO hit comedy is based around Vice President Selina Meyer, played by Julia Louis-Dreyfus, and her staff, an incompetent group of people fumbling through their high-pressure jobs and making careless mistake after careless mistake.
Besides being the most brutally honest look at government, it also is the funniest show of the lot, winning Emmy awards for Outstanding Comedy Series and snagging the Emmy for Outstanding Lead Actress In A Comedy Series for Dreyfus four years in a row.
The show is known for its explicit language and creative use of obscenities. It's not unusual for Meyer and her team to get frustrated on a dime and let out a creative, curse-riddled rant, showing how even government officials are ordinary, easily flustered people. For people who feel like the political process is artificial, "Veep" provides a satirical, hysterical look at the people behind politics.
Between these three shows, it's impossible not to be entertained. While this year's presidential debates have been pretty entertaining in their own right, there's comfort in knowing that characters like Frank Underwood don't actually exist, and we won't be seeing the likes of him on CNN anytime soon.