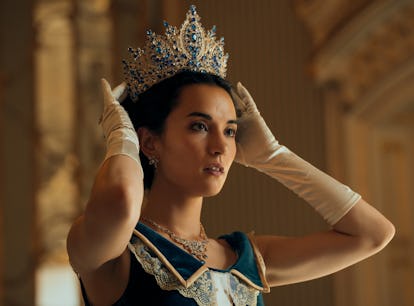 Shadow And Bone Got Canceled After A Massive Cliffhanger
It's a sad day for the Grishaverse.
Netflix
The Grishaverse is disappearing, and at a really unfortunate time. Eight months after its second season aired, Netflix announced Shadow and Bone would not be getting a Season 3 on Nov. 15. Leigh Bardugo, who authored the source novels, also revealed the planned Six of Crows spinoff had been canceled as well. The announcement hit fans especially hard, given that the second season ended with several huge cliffhangers that surprised even book readers. Now, it looks like fans of the series will just be left hanging forever.
Shadow and Bone fans were pumped for a potential third season after Season 2 massively deviated from the novels with some big twists. The most shocking by far being Alina's final moment, when she unleashed Shadow Summoner magic to murder an infiltrator at Nikolai's coronation ceremony.
The outburst shocked even superfans of the book saga, since on the page, Alina had never developed Shadow Summoner abilities. Instead, she lost her Sun Summoner powers after closing the Fold and ran off with Mal. The finale confirmed the show would be going in an unexpected new direction, with Alina still planning to marry Nikolai and gaining dark new powers, while Mal departed from her to start a new life as the pirate Sturmhond.
The Shadow and Bone team had also been teasing a Six of Crows spinoff series, which would focus more heavily on the titular team of thieves that are featured in Shadow and Bone. But Leigh Bardugo confirmed that spinoff was also canceled.
"Friends, by now you've probably heard that there will be no Season 3 for Shadow and Bone and no Six of Crows spinoff," Bardugo wrote in a Nov. 15 Instagram note. "The news hit me hard. I'm heartbroken and deeply disappointed, but I'm also trying to hold onto my very real gratitude."
Bardugo ended her message by thanking the devoted fans of her work. "The Grishaverse is a better place because of you and I am so thankful for every tweet, post, comment, review, artwork, fic, tattoo, and cosplay that helped to make all of this possible," she wrote. "We're book people and that means we never stop imagining that magic can be made real. You are proof of that. Now, I'm going to go have a cry, and maybe a drink, and then see where the story takes us next."