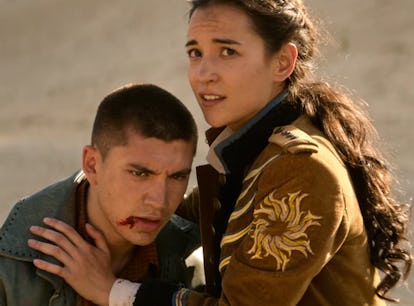 Here's What That Shadow And Bone Season 2 Finale Twist Means
Since when can Alina do that!?
Netflix
Spoiler alert: This post contains spoilers from Shadow and Bone's Season 2 finale.
Just when you thought Shadow and Bone was heading towards a bright and happy ending, it threw fans into the darkness once again. But this time, the last-minute twist was just as shocking to book readers as it was to casual viewers. Here's how Alina's Shadow Summoner twist in the Shadow and Bone Season 2 finale could majorly change the show's future.
For its second season, Shadow and Bone deviated from its source material even more than it did in Season 1. And the biggest change came at the very end. As a Fjerdan Grisha, hopped up on the power-amplifying drug jurda parem, started massacring Ravkan nobility at Nikolai's coronation, Alina killed her by unleashing Cut. But her Cut looked different than it ever had before. Instead of creating a blade of light, the Sun Summoner instead sends a sharp mass of shadow at the Fjerdan.
Even more alarming, Alina's lips curled into a satisfied grin after unleashing the shadow energy. Could she have somehow inherited the Darkling's Shadow Summoner abilities? Or is the truth even more nefarious?
This is a major change from the books, so even fans who are familiar with Leigh Bardugo's Grishaverse novels can't really predict what this twist means. In the books, Alina loses her Sun Summoner abilities after using Mal as the third amplifier and destroying the Fold. This may be the show's take on that, with Alina becoming a Shadow Summoner after unleashing all her Sun Summoner energy to bring down the Fold.
Or it could be another reimagined storyline from the novels. In the books, the Darkling's spirit is brought back after Alina killed him, and he possesses the body of his acolyte Yuri. The show has yet to introduce Yuri, and there's a chance it never will. The finale twist could be a hint that the Darkling's spirit possessed Alina, which would obviously be a huge shake-up if Shadow and Bone is renewed for Season 3.
The Fold may be gone, but Shadow and Bone fans are more in the dark than ever about where the show is heading next.