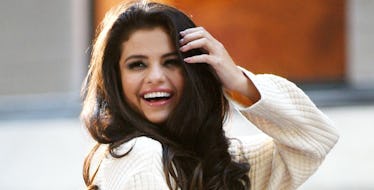 Selena Gomez Revealed Her Instagram Strategy, And It's Surprisingly Simple
REX/Shutterstock
If there's one thing we all love to hate, it's people who are insanely good at everything without even trying.
Unless, of course, we happen to be talking about Selena Gomez. Because let's be real: Who in their right mind could possibly dislike this sweet Disney star?
If Selena Gomez's good looks, acting abilities and singing skills aren't enough to make you jealous, you might want to brace yourself.
We just uncovered another one of Gomez's natural gifts: Instagram.
While most celebs rely on professionals to manage their social media presence, Gomez knows how to slay the Insta-game all on her own, and with minimal effort to boot.
That's right, with a whopping 89 million followers, this gorgeous 'Grammer has even managed to surpass the likes of the almighty Taylor Swift and earn the honor of being the most popular person on all of IG.
So then, what's is this 23-year-old's secret to social media success? Apparently, her social media strategy is a lot more simple than you might think.
Gomez recently told The Hollywood Reporter,
It comes in a moment when I capture something happening, and I go, 'Oh, that would be great for Instagram. I should post it.' I know it's boring, but that's genuinely what I do.
The humble celeb revealed that "it wasn't [her] goal to be the most followed person," but it seems like Gomez certainly doesn't mind being the new queen of the social media scene.
If you take a peek at Gomez's glorious Instagram feed, you'll find a collection professional pics, selfies and videos that give followers a glimpse into her busy everyday life.
Whether she's snapping pics with fans at concerts, posting selfies at the studio or showing the world what she does backstage before a show, Gomez revealed it all just boils down to finding "a good balance of just being 100 percent myself and knowing when to post a really good selfie with good lighting."
While Gomez doesn't appear to have a formal social media strategy, she did spill the beans on a few of her go-to tips, like using emojis as captions when she can't think of something good to say.
If achieving Instagram fame was only that easy.
Citations: Selena Gomez: How I Became Instagram's Most Followed Person (Without Really Trying) (Hollywood Reporter)