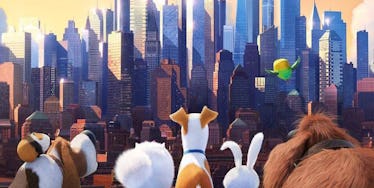 Why You Need To Embrace Your Inner Child And See 'The Secret Life Of Pets'
Universal Pictures
There's something special about going to the movies as an adult and seeing a film meant for kids.
It brings back a sense of nostalgia and whimsy and, most importantly, let's you laugh at fart noises and other things that have been deemed "immature" by the adult world.
"The Secret Life of Pets" is the perfect combination of childhood humor and adult snark.
The Illumination Entertainment film, which has a voice cast starring Louis CK, Eric Stonestreet, Kevin Hart, Ellie Kemper, Bobby Moynihan, Jenny Slate and Lake Bell, raked in an estimated $103.2 million this past weekend, setting a box office record and surpassing Pixar's "Inside Out" by roughly $13 million.
The movie tells the tale (tail) of a group of pets and their adventures when their owners leave for the day.
I had the privilege of seeing the film and attending a press conference with Louis CK, Kevin Hart, Eric Stonestreet, Bobby Moynihan, Lake Bell, the film's director, Chirs Renaud, and the three writers, Cinco Paul, Ken Daurio and Brian Lynch.
As a 23-year-old comedy-enthusiast, I was thrilled to sit down and hear what some of my favorite comedians had to say, on and off screen. However, I was wary of being let down by a lack of adult-themed humor and raunchy dialogue that comes with shows like "Modern Family," "The Office," "SNL" and "Louie."
Typically, when seeing a children's movie, I've been with younger cousins or kids I'm babysitting. This was the first time I went to the theater alone to see an animated film.
It was an eye-opening experience.
While that certainly sounds dramatic, sitting in a theater of kids and watching an animated movie about talking pets truly opened my eyes to the artistry and comedic genius that are threaded into a well-made kids' movie.
Our generation thrives on instant gratification. There is nothing more gratifying than watching a film that churns out laughs, slapstick humor and quick one-liners with every blink. I left the theater feeling relaxed and much more carefree than I had entering.
There is something therapeutic about spending an hour and a half mindlessly watching adorable animals bounce around screen on a quest that doesn't involve beheadings, violent rape or murder (I'm also a big "Game of Thrones" enthusiast).
What I found most interesting was hearing the voices of comedians like Louis CK -- who I'm used to hearing say phrases like, "I'm sick of the constant perverted sexual thoughts" -- take the form of an animated, happy-go-lucky terrier.
It's fascinating the way actors like Louis and Kevin Hart can seamlessly make this humor transition.
Both men are fathers, and both commented on the way this role differs from others.
Kevin Hart said,
The other things that I do, I can't let [my kids] watch it at their age... for the most part. Animation is the right way to go.
And Louis CK followed with,
My kids can't see anything I make, except for this.
What intrigued me most was how the writers were able to weave adult content into a children's movie. I asked them how they toe the line between adult humor and kid humor without crossing it.
All three responded collectively, saying,
We wait for someone to tell us. We're all adults, but we're also really immature. I think we all write to make each other laugh, we really don't write for kids. That's the rule, you really don't write for children ever. You write to make yourself laugh. But then sometimes you'll see stuff up in the scene and you'll be like… yeah… no.
The takeaway from a movie like this is a simple reminder that, in this crazy and scary world, it's important to laugh.
The Millennial generation could use some fluff in their lives. "The Secret Life of Pets" is in theaters now.