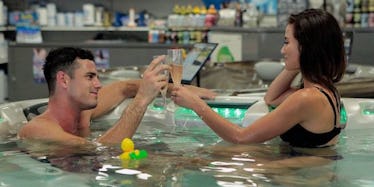 Swimming Pigs, Hot Tubs And The 10 Greatest Moments From 'The Bachelor'
ABC
Cue Chris Harrison's voice saying, "This is the most dramatic season of 'The Bachelor' yet."
*Insert eyeroll emoji*
I love you, Chris, but you really need a new line.
Anyway, Ben Higgins' season of "The Bachelor" has proved to be one of the best seasons to date.
The software sales representative from Warsaw, Indiana has a boy next door charm that makes every girl swoon.
I do find myself often questioning why a guy so seemingly perfect as Ben has to go on a reality TV show to find love, but that is beside the point.
Higgins' season has had its fair share of laughs, tears, drama, girl fights, awkwardness and just straight up weird moments.
So, grab a glass of vino and let's take a look back at some of the greatest moments of "The Bachelor" Season 20.
1. When we saw some of the most bizarre entrances to date during Episode 1.
Okay, who the f*ck is this chick with a giant rose on her head?
She has a killer body, but did you seriously think it was a good idea to wear a rose on your head to meet your (possible) future husband?
OMG that girl just bent over and did a football snap in a gown.
Ouch, that's not a good look from behind. I mean, I shouldn't judge. Who knows what I would look like bent over snapping a football on national television?
And finally, just when I thought things couldn't get more bizarre, a girl walks out of the limo dressed like a unicorn emoji.
2. Lace … in general.
OK, I have to admit, I actually really like and respect Lace now.
She ended up exiting "The Bachelor" quite gracefully, and really redeemed herself in my eyes. However, her behavior while on "The Bachelor" was nothing short of entertaining.
Lace provided us with several cringeworthy conversations and just plain awkward behaviors with Ben.
3. Ben's first date with Lauren B.
Can we just end the season now?
The chemistry between Lauren B. and Ben on their first date was just so undeniable.
These two are in LOVE.
After this date, I have officially decided the rest of this season is going to be a charade trying to convince viewers that anyone but Lauren B. wins. I mean, come on. It's so obvious.
4. Ben's obsession with hot tubs.
Why has there been a hot tub on every date? Ben and Lauren B. literally sat in a hot tub in the middle of a field.
I mean, I know "The Bachelor" is slightly obsessed with hot tubs, but this is a little excessive.
5. When Ben said "What better place to find love than Las Vegas?"
LOL, Ben, ILYSM, but I can think of a few better places.
6. Olivia's awkward dance out of a cake.
I really hate to judge, because we've all definitely had one too many cocktails and thought we were a really good dancer before.
HOWEVER, we did not do this on national television in front of a guy we're dating, wearing a red boa and popping out of a cake.
Yikes. The secondhand embarrassment here was real.
7. When Ben breaks up with the twins.
The only thing more awkward than dating twins, is dumping one of them.
Although I think Ben was trying to be a gentlemen by going to Emily and Hayley's house and then deciding what to do about his relationship with each of the girls, it ended up just being super awkward.
There's really no good way to end a relationship with a set of twins.
Sorry, Higgins.
8. Olivia talking about Ben's non-verbal signs that he loves her.
"You know, he'll just like squeeze my hand, or give me a look, and I just know."
OK, Olivia.
*Chugs wine*
9. When Ben has a group date in the Bahamas … and there are swimming pigs.
As if a date with six women couldn't be any weirder, let's throw some pigs into the mix.
The cherry on top was when Leah was trying to have a serious conversation with Ben and his first line was, "So, do you like the pigs?"
Ben: zero. Pigs: one.
10. Episode 7 when it's so clear Lauren B. and Jojo are the final two.
In episode seven, Ben went on two extremely good dates with Lauren B. and Jojo.
As I said above, Lauren B. has been a front runner in the race for Ben's heart literally since the first second of episode 1, when she was the first girl to step out of the limo.
However, I will say that Jojo is a very close second.
Ben clearly really likes Jojo, but the one thing holding back the progression of their relationship is Jojo's fear to open up.
Lauren B. is definitely more open and honest with her feelings.
But, honestly, can you blame Jojo for having trust issues with a guy who is dating several other women?
With the season finale getting dangerously close, things on "The Bachelor" season 20 are finally starting to heat up.
So stock up on your wine, chips, and chocolate. These next few weeks are going to be a wild ride as we find out which lady Ben Higgins liked so much, he put a ring on it (hopefully).