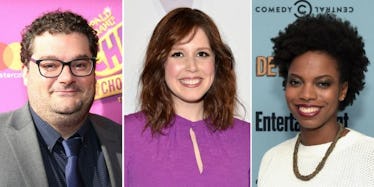 3 Longtime 'Saturday Night Live' Cast Members Just Left The Show For Good
Getty
There's no argument Saturday Night Live just wrapped one of its most successful seasons to date, thanks in large part to Alec Baldwin and his ever-present Donald Trump impersonation. But several of the faces who helped make this season of SNL so memorable won't be back for next season.
Over the weekend, three longtime cast members announced that last Saturday's SNL season finale, hosted by Dwayne "The Rock" Johnson, would be their last episode. Bobby Moynihan, Vanessa Bayer, and Sasheer Zamata have all officially departed the show.
Bobby Moynihan has been a staple on SNL for nearly a decade, first signing on to the show in 2008. He became well-known for his energetic celebrity impressions (most notably Ted Cruz in recent years), and his nonsensical original characters like Drunk Uncle and Riblet.
For his final show on Saturday, Moynihan revived his most popular character of Drunk Uncle for one last time to rant about Trump, La La Land, and fidget spinners. Check out the clip below.
Moynihan already has his next gig lined up: He'll be helming a new sitcom coming to CBS called Me, Myself, and I, along with being one of the main voices on the new DuckTales series.
Along with Moynihan's departure, Vanessa Bayer also left SNL after seven years. Since starting on the sketch series in 2010, she's made her mark with popular impressions like Miley Cyrus and Rachel Green from Friends, along with beloved original characters such as child actress Laura Parsons and Jacob the Bar Mitzvah Boy.
Bayer brought back a recent but popular character of marble-mouthed meteorologist Dawn Lazarus for her farewell show.
Given that Bayer has appeared in a number of huge comedy films in the past few years — Trainwreck, Office Christmas Party — she should have no trouble refocusing her career. She'll next be seen in Jack Black's comedy The Polka King.
And finally, the third cast member to depart from SNL was Sasheer Zamata, who has been a part of the show since 2014. Zamata was hired at a time when Saturday Night Live was coming under fire for not being as diverse as it should be, and she became the first black woman to join the cast since Maya Rudolph left the show seven years earlier.
But SNL never really seemed to know how to best utilize Zamata's unique form of comedic storytelling, which she shows off in her recent special Pizza Mind. Instead, the show mainly featured her for impressions of black female celebrities, such as Rihanna, Beyoncé, and Michelle Obama.
With three SNL staples officially gone, we'll just wait to see who the show adds to fill out its cast for next season!