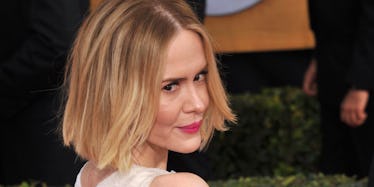 Sarah Paulson Engraved Marcia Clark's Name On Her Emmy To Share The Win
Shutterstock
Fresh besties Sarah Paulson and prosecutor Marcia Clark share everything, even the Emmy for Outstanding Supporting Actress in a Limited Series or Movie.
Rather than walk the 2016 Emmy Awards red carpet with girlfriend Holland Taylor, Paulson brought Clark, whom she played in "The People V. O.J. Simpson." Following her win, the actress had both her name and Clark's engraved on her Emmy statue, the LA Times reports.
In her acceptance speech, Paulson acknowledged Clark's hard work and apologized for justice that was not served.
She said,
The responsibility of playing a real person is an enormous one. You want to get it right—not for you, but for them. And the more I learned about the real Marcia Clark, not the two-dimensional cardboard cutout I saw on the news, but the complicated, whip-smart, giant-hearted mother of two who woke up every day, put both feet on the floor and dedicated herself to righting an unconscionable wrong, the loss of two innocents—Ron Goldman and Nicole Brown—the more I had to recognize that I, along with the rest of the world, had been superficial and careless in my judgment… I'm glad to be able to stand here today in front of everyone and tell you I'm sorry.
Paulson stayed modest about her accomplishment during a post-win interview, saying she never considered it fated.
The "American Horror Story" actress told E!'s Cat Sadler,
This was my sixth nomination and I've never won, and I'd heard things like that before. I just thought, 'I'm not going to count my chickens [before they hatch],' so I didn't… I did write my speech for the first time ever.
Paulson promised to party hard as living F before heading back to work on "American Horror Story" Monday.
She said,
I will see the sun come up today if I'm doing it right… I'm working tomorrow on 'American Horror Story,' but that's my home and I love working there… It'll be a nice day to go to work with all of my family and friends. I know they'll be celebrating with me. That's actually a good thing.
Starting now, we're all trying to get that Sarah Paulson life.
Citations: Sarah Paulson "Never Believed" Her Own Hype Leading Up to the 2016 Emmys (E! News)