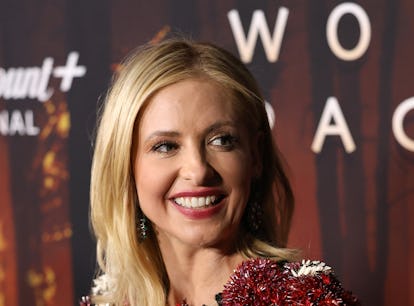 Sarah Michelle Gellar Said Scooby-Doo Originally Had Daphne Kissing Velma
"I feel like the world wants to see it."
Jesse Grant/Getty Images Entertainment/Getty Images
Sarah Michelle Gellar's kiss with Selma Blair in Cruel Intentions is cinematic history, but Gellar recently revealed she was almost part of another iconic sapphic kiss back in the early 2000s. The actor confirmed her version of Daphne Blake in the 2002 Scooby-Doo movie originally kissed Linda Cardellini's Velma... but the scene was deleted from the final edit. Although the kiss was cut, Gellar knows "the world wants to see it," but sadly, she has no clue if the deleted scene still exists.
Gellar opened up about the "less family-friendly" version of Scooby-Doo during her Feb. 3 appearance on Watch What Happens Live. She revealed a "steamy" kiss between herself and Cardellini's Velma was removed from the movie. "There was an actual kiss between Daphne and Velma that got cut," Gellar said. "I feel like the world wants to see it. I don't know where it is."
The kiss likely would have been one of the earliest overt portrayal's of Velma's LGBTQ+ identity. The character has a long history of LGBTQ+ communities identifying with her, but has only recently has her sexuality been portrayed on screens. In the 2022 movie Trick or Treat Scooby-Doo!, Velma developed a crush on another woman, and in Mindy Kaling's 2023 series Velma, the investigator struggles with her confusing feelings for Daphne, which leads to a kiss between the two.
Gellar's comments aren't the first time the deleted kiss in Scooby-Doo had been mentioned. Director James Gunn revealed in a since-deleted Twitter thread in 2020 that Velma was "explicitly gay" in his first script for the movie, and "she kisses Daphne" in that initial write-up. Gunn went on to reveal "the movie was initially rated R," but "the studio just kept watering it down and watering it down" until it reached the PG rating it ended up with.
Gellar echoed those remarks on WWHL, saying the movie "was less family-friendly to begin with." As an example, she shared one of her favorite jokes was actually cut from the movie. "We were having a fight, Daphne and Fred, and then I yell at him, 'And that ascot makes you look gay!' And I slam the door," Gellar recalled. "They cut that, too."