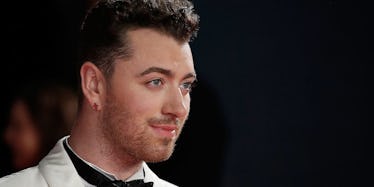 Sam Smith Looked Totally Different At The Grammys, And No One Could Handle It
Getty Images
The Grammys are the biggest night in music, so obviously, anyone who's anyone comes dressed in his or her absolute best.
It's the night the biggest stars always make the most insane and daring fashion statements.
In case you're missing this year's red carpet, Taylor Swift already showed off a gorgeous new bob and Zendaya took her tribute to David Bowie to the next level by sporting an insane mullet.
However, Twitter wasn't paying any attention to those two when Sam Smith made his way to the annual show.
Sam Smith walked the red carpet, debuting the biggest transformation of all, and it looks like the "Stay With Me" singer lost a TON of weight. Like, he actually looks insanely good.
If you need a refresher, here's what Sam Smith used to look like less than a year ago.
And here's what Sam Smith looks like on tonight's Grammys red carpet.
Naturally, fans are freaking out over the transformation.
@LittleFalpal OMG YASS AND SAM SMITH I FELL OUT HE LOOKED SOO GOOD AND HE WON A GRAMMY!!! — FalPalElisa (@jimjamisbae) February 16, 2016
SAM SMITH LOOKS AMAZING AT THE GRAMMY AWARDS — TQ (@TaQaveaS) February 16, 2016
Sam Smith looks great! Good for him. #GRAMMYs — Lisa Johnson (@LisaJohnson) February 16, 2016
Like, Twitter is actually losing its mind.
sam smith lost major weight — Brennon Robinson (@brennonofficial) February 16, 2016
KING!!! @samsmithworld looking INCREDIBLE at the #GRAMMYs href="https://t.co/ZaLlePwnGe">pic.twitter.com/ZaLlePwnGe — SAM SMITH USA (@samsmithusa) February 16, 2016
I DID NOT RECOGNIZE SAM SMITH. #Grammys — Ashley Weatherford (@sincerelyash) February 16, 2016
But, I have to say, he really does look amazing. THAT SMILE.
GRAMMY Award-winner @samsmithworld is on the Red Carpet at the 58th #GRAMMYs https://t.co/w0i3iGRNX4 pic.twitter.com/T1mFaTLSBL — The GRAMMYs (@TheGRAMMYs) February 16, 2016
Keep doing what you're doing, Sam Smith. We're not mad about it.
To make this night even more enjoyable for you, we have the official list of winners here and will keep it updated throughout the night. We're also live-tweeting the event on @EliteDaily and providing our thoughts on Snapchat (elitedailysnap), so be sure to follow along.