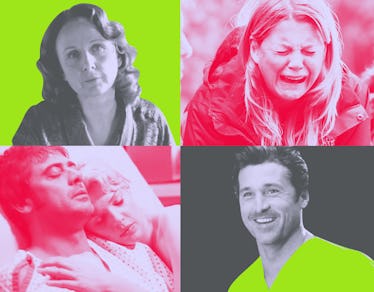 The 20 Saddest 'Grey's Anatomy' Deaths, Ranked By How Hard You'll Sob
They'll have you crying for sure.
ABC
Grey's Anatomy is an emotional wrecking ball from which no one is safe. After all these seasons, pretty much every hardcore fan has been devastated by the loss of a beloved character. But which character loss is the saddest Grey's Anatomy death? Surely that's subjective, but this ranking is hard to argue with.
Since Grey's Anatomy is set in a hospital, it's only natural for the characters to deal with life-or-death drama on a very regular basis. But this show raises the stakes even higher, subjecting the main doctors to everything from a plane crash to a hospital shooting, so you never know when a shocking goodbye is around the corner.
Series creator Shonda Rhimes was never afraid to write off a character, and since Grey's Anatomy has been running for over 300 episodes, the show has been full of countless heart-wrenching deaths that shook viewers to their core. Some were major characters audiences had grown to know and love for seasons, while others were patients who had short but impactful arcs. Regardless, they all hurt like a b*tch.
As Meredith Grey put it: "They say death is hardest on the living. It's tough to actually say goodbye. Sometimes it's impossible. You never really stop feeling the loss." Out of all the Grey's Anatomy deaths, here are the 20 that prove this quote to be true: