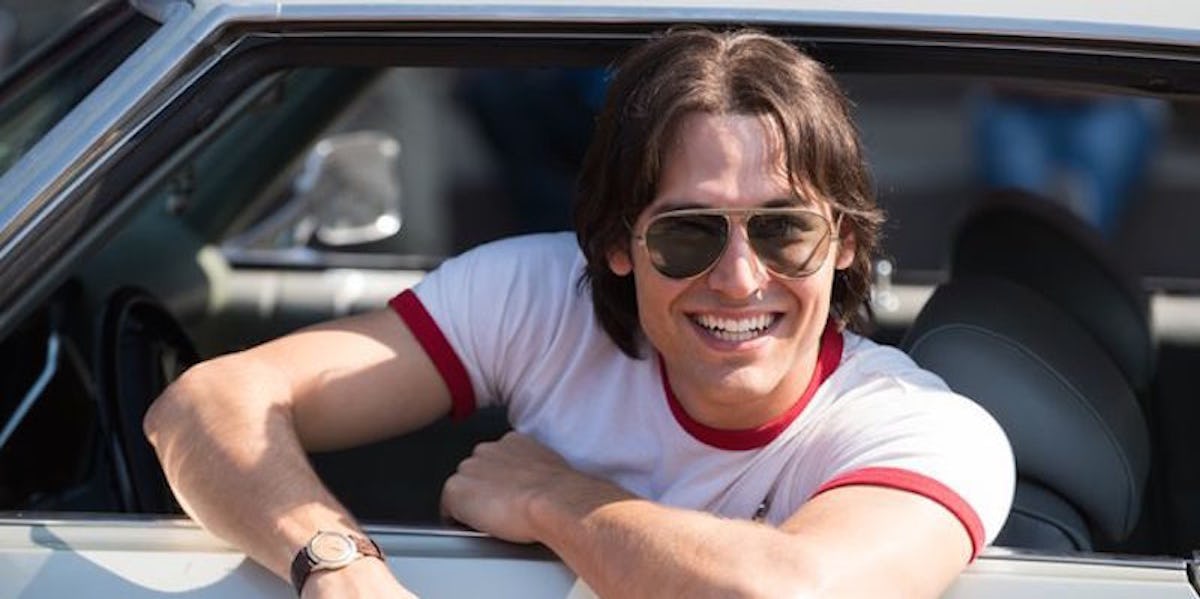 'Everybody Wants Some!!' Star Ryan Guzman Never Forgets The Value Of Family
Paramount Pictures
There's a scene in Richard Linklater's latest coming-of-age film, "Everybody Wants Some!!," in which a hedonistic Kenny Roper shares a moment with himself.
Reminiscent of the pep talk we all offer our egos before a big night out, Roper takes a few minutes in the mirror to feed his own with a short monologue about "The Cheese," aka his award-winning backside.
"My mom loves that one," says Ryan Guzman, the 28-year-old actor who plays the role of Roper in what is being called the "spiritual sequel" to Linklater's "Dazed and Confused."
Guzman takes my phone call from Sacramento, California, the city in which he was raised. He might be hungover, admitting he had hit the club the night before to celebrate the film's success with his family. Although, even if he is, I feel like patting him on the back for championing not only the undoubtably many drinks he indulged in, but also for how far he's come in his short career.
Born in Texas, Guzman says he never took the significant influence of his Mexican-American family for granted. Still today, the actor is a man of faith and integrity, two characteristics surely imparted by the people who raised him. To Guzman, however, family isn't contingent on sharing a bloodline, as he says,
I invite friends to my family; I call some of my friends my brothers, my sisters. We all have our own connection. I really trust everybody that I call family.
Becoming an actor and yielding to his creative talents was never at the forefront of his mind growing up, as Guzman's background is heavily rooted in athletics.
He attended Sierra College in his hometown, where he continued his love for the game of baseball until an arm injury took him off the pitching mound. Following college, Ryan turned to mixed martial arts to fulfill his athletic drive, which ultimately sent him to Los Angeles. Soon after, he started modeling and commercial acting, appeasing the worries of his mother who was never a fan of her son as an MMA fighter.
After landing six commercials in just six months, Guzman says,
I started investing in myself and doing some acting classes, trying to get somewhere. I signed with a manager two months after I stopped doing commercials. A month after signing with my manager, I booked 'Step Up Revolution' and never looked back.
You might recognize Ryan from his part in the "Step Up" franchise as Sean Asa, or as the twisted, obsessed character of Noah Sanborn alongside Jennifer Lopez in "The Boy Next Door." If you had the chance to catch the latter, you recall Guzman's character as a brooding, college-aged kid with stalker tendencies that evoke a more come-to-mama than scared-to-death reaction.
It's not his fault he was born that way: dark features, brawny build, a smile that could kill. Though his exterior presentation has no correlation to his acting ability, Guzman says his biggest challenge thus far in his career is getting past being typecast as a certain character with advantageously good looks.
His ultimate goal is to have the opportunity to play in-depth characters that show true perspective on the lives of real people, like his dream role of playing a martial artist. He's familiar with the grief that accompanies the lifestyle, and with the advantage of having personal exposure to the craft, he, more than anyone, feels equipped to showcase the true value and impact the art of fighting can have on a person.
His athletic background has translated well to his work and its influence is heavily apparent in "EWS," the story of a Texas college baseball team loosely based on Linklater's own life. Ryan says he never thought he'd have the opportunity to experience the baseball mentality again; to indulge in the camaraderie, trust and commitment of being part of a team.
The film introduces the audience to a host of actors in their twenties, most of whom will be highly recognized for the project among their collections of work. Ryan talks up his co-stars who are also aspiring producers, directors and writers, saying they all "took a backseat to try to capture just one-100th of what [Linklater was] doing and remember it for future purposes, so [they] can create [their] own path."
Linklater, whom Ryan says working with was a "dream," brought the cast to his house in Austin for several weeks, where they lived and breathed '80s pop culture while getting to know one another prior to filming. Guzman says,
From day one, Rick set the tone: 'We're all here to create. We're all here to have fun. Feel the ease in that and believe in yourself.' And the cast took that to heart. Hanging out in the bunk beds, sleeping on top of each other pretty much, we had a great time getting to know each other. We never found that one bad seed; there was nobody even willing to try to do that just because the vibe was so cool.
He says the whole crew remains bonded together since filming, if owed to nothing more than the six or seven text message chats Ryan mentions are all equally used. He became such good friends with co-star Tyler Hoechlin that the two have now moved in together.
Linklater set the foundation for the aforementioned vibe Ryan refers to, positioning the cast for some degree of method acting evocative of his time spent at Sam Houston State.
Guzman says they workshopped their lines so immensely during their days spent in Austin, it's actually a challenge to decipher original script from what came of riffing off one another organically. The result is a palpable, genuine chemistry easily seen in the onscreen performance delivered by Guzman and his teammates -- err, co-stars.
Ryan reveals he's never seen a director interact with the cast in the way Linklater did on this film, saying,
There's something in that freedom and [his] trust that makes you want to work that much harder to create something that much more unique that will go throughout time. … A lot of directors I've worked with will work around certain ideas, but they're not as open as Richard. You can't explain how good it feels as an actor to work with your Chief Commander and him just be like, 'Alright well, show me something new. Show me something that you would like to show me. And if it works, it works. If not, we move on to the next thing; we create something else.'
It's imaginable how refreshing Linklater's approach might be, undoubtedly enhancing the performance of his cast, whether they're comfortably seasoned, honing their craft or both. A deviation from too-cool-for-school Roper, who oozes self-confidence in front of the ladies, on the field and in front of the mirror, Ryan is much more transparent and candid, saying, "Not actually believing in yourself happens all the time."
When it comes to his craft, Guzman says,
Acting, how hard it is, it's relative. You're putting pressure on yourself; you're always trying to do better than the last time, and you're always trying to strive to become something better. That's no different from fighting or baseball or trying to make it in Sacramento.
Whether undisputedly "better" or simply more, the opportunities in Ryan's future seem auspicious, as up to this point, Ryan says,
I feel blessed to be in the position I am, but I know I've worked hard for it.
For now, though, he should breathe in the air of acclaim, as his role of Kenny Roper contributed to a priority he consciously values more than success: family. Before we hang up, Ryan slips in a summary of his experience working on "Everybody Wants Some!!" that speaks to his sincerity.
I love the guys; they're my brothers. Rick will always be my brother.
Follow Ryan on Instagram and Twitter, and don't miss "Everybody Wants Some!!" in theaters now.