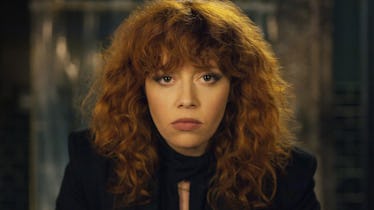 Russian Doll Season 2 Is Coming SO Soon
The teaser just has me more confused.
Netflix
No, you're not in a time loop. Russian Doll, the dark Netflix comedy, is officially coming back. If you're looking for more thought-provoking laughs after the Season 1 cliffhanger finale, you're in luck. Here's what we know so far about Russian Doll Season 2, including its new cast, release date, trailer, and plot.
When Russian Doll Season 1 premiered in February 2019, fans were instantly enamored by its twisted humor and new take on a classic Groundhog Day theme. The eight-episode first season followed a coder named Nadia (Natasha Lyonne) who found herself stuck in a time loop. She kept mysteriously dying then waking up in the middle of her 36th birthday party to live the day all over again. The catch was, as she was working to figure out WTF was going on, she met a man named Alan (Charlie Barnett) who was also stuck in the loop.
For the rest of the season, Nadia and Alan tried to figure out why they're living and dying the same day together, and even though they never really got an answer, they did find peace. During the final episode, they both woke up in separate time loops where the other had never died. They took it upon themselves to ensure the "new" versions of the other stays alive and bonded all over again in a new way. And even though the storyline wrapped up nicely, a Season 2 is officially in the works — and with a beloved star joining the cast.
This article was originally published on