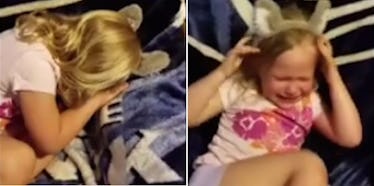 Little Girl Totally Loses It When She Finds Out Russell Wilson Married Ciara
YouTube
Wednesday, superstar couple Russell Wilson and Ciara got married at Peckforton Castle in Cheshire, England.
According to reports, the affair was a small gathering of close family and friends, and guests supposedly weren't even allowed to bring cell phones to the event.
Ciara & Russell Wilson -- Getting Married Today ... No Cell Phones Allowed https://t.co/4JdOWM9BPR — TMZ (@TMZ) July 6, 2016
Presumably, that rule was put in place so photos of Wilson and Ciara on their big day wouldn't get leaked on Twitter and the Web. By the looks of it, Ciara wanted to be first to post a photo of the Wilsons, and when she finally did, well, it was worth the wait.
We are The Wilsons! pic.twitter.com/W6lftdtef3 — Ciara (@ciara) July 6, 2016
Wilson, who was reportedly waiting to marry Ciara before having sex with her, was understandably overjoyed Wednesday.
Overflow of Blessings! God is so good! — Russell Wilson (@DangeRussWilson) July 5, 2016
However, it appears not everyone felt like celebrating Wilson and Ciara's wedding. As you can see in the video above, one little girl was clearly devastated after learning Russell Wilson is officially off the market.
I mean, you can tell from the giant Seahawks blanket in the background this girl is a massive Russell Wilson fan, so you can understand her emotional reaction, but didn't she see this one coming?
I know Ciara and Wilson had a somewhat short engagement, but come on, little girl.
Be happy for Russell, Kaia. There are plenty of other fish in the sea.
Citations: Young girl heartbroken after learning Russell Wilson married (Daily Mail)