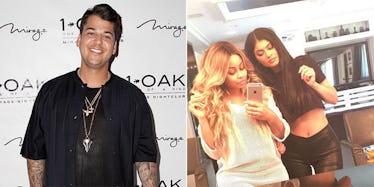 Here's What Rob Kardashian Thinks About Kylie Jenner And Blac Chyna's Selfie
MediaPunch/REX/Shutterstock/Instagram
Everything we've ever known is a lie.
It looks like Kylie Jenner and Blac Chyna have been friends all along, at least according to Kylie's recent Snapchat.
But now, it looks like Rob Kardashian is commenting on their new "friendship." Rob just added a photo of Blac Chyna and Kylie taking a selfie together and shared how happy he is his girls made up.
The caption read,
So happy my girls finally got to talk and make peace! #MyFamily #AllLove
THANK GOODNESS. I mean, Rob is definitely addressing the fact Blac Chyna and Kylie had beef, but it looks like the two made up and are now one big, happy family.
I'm so happy for you guys. Kylie, you should be the maid of honor at Rob and Blac Chyna's wedding. I think that will really bring things full circle.