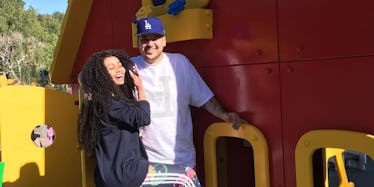 Rob Kardashian Thanks Blac Chyna In Cute Instagram Shoutout
Instagram
Say what you want about Blac Chyna, but she has been a lifesaver for Rob Kardashian.
When you look at the Kardashian family, Rob has always been sort of a reclusive enigma when compared to literally everyone else he's related to. He's obviously not the biggest fan of the fame spotlight, which makes him the worst person alive to have the last name "Kardashian" on his birth certificate.
Constantly being tied to the world's third most famous family (behind the Obamas and whatever-the-last-name-of-the-Prince-William-family-is-es) led to reported bouts with substance abuse and extreme weight gain that have made the family worried for his well-being.
Then, Blac Chyna came along.
She's been a saving grace for Rob and the inspiration for him losing weight and getting clean.
Monday on Instagram, Rob gave a touching shoutout to Blac Chyna for helping him shed the weight and get his life back in order.
Rob captioned the post,
Looking from where I started 298lbs to my current weight now 248.4lbs ) I'm focused and determined to reach my goal weight 200-205lbs.... Happy I found my motivation
Let me go on the record saying I'm a huge fan of Rob and Blac Chyna (celeb couple name: Blob). I know there is a crazy amount of family drama here and that it could potentially turn Tyga into his own son's uncle technically, but Blac (can I call her that? I really have no idea how to proceed with being casual about her) has been great for Rob.
He posted workout Snapchats all weekend, and they're all top-notch clips.
I mean, he's wearing a baseball hat the entire time.
Nobody else does that.
That's the most LA thing of all time.
Keep it up, Rob! #TeamBlob
Citations: Rob Kardashian Reveals Nickname for Blac Chyna While Working on His Mind Body and Soul (Cosmopolitan)