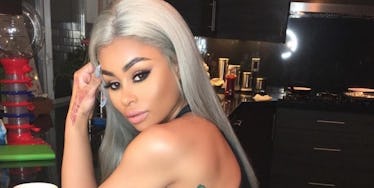 Rob Kardashian And Blac Chyna Have Reportedly Called It Quits
Just weeks after (very publicly) confirming his romance with Tyga's ex Blac Chyna, Rob Kardashian is apparently single once more.
The pair, who went public with its relationship in January, reportedly split after an argument about the status of the relationship.
A source "close to the couple" told Us Weekly,
They were moving too fast. They had a fight about how much time they had been spending together but they'll be back. This is a relationship in the fast lane. It all moves fast, so the breakups are dramatic too, like the relationship. They could be back together whenever, it's so dramatic.
It's worth noting that this does appear to be more than gossip and speculation, as both Chyna and Rob have deleted those nauseating lovey-dovey posts plastered all over their pages.
(This leaves Rob, for those counting, with a whopping one photo to his name on Instagram.)
Chyna, in sorting her sea of selfies, missed one snap:
The model also posted a photo bearing the following (not-so) cryptic message:
When you just get out of a relationship & your hoe friend welcomes you back to the World of Hoe.
If it walks like a breakup, and talks like a breakup...
But because this is a part of the Kardashian Universe, we may never know what's real and what's made up for the cameras.
All we can do is obsess and continue to fuel their fame with our inexplicable fascination.
Stay tuned for more details as the Rob-Chyna saga unfolds.
Citations: Rob Kardashian Deletes Instagram Photos, Blac Chyna Hints at Breakup (Us Weekly)