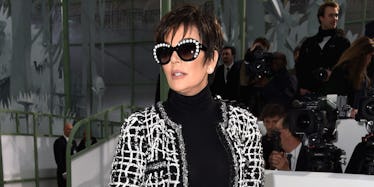 Kris Jenner Opens Up About Rob's Relationship With Blac Chyna
Getty Images
There's no love lost between Rob Kardashian and mom-ager Kris Jenner.
Though the media have been quick to speculate on how his relationship with Blac Chyna has affected the rest of the Kardashian Krew — specifically, Kylie Jenner and Tyga, with whom she shares a history — Kris Jenner's recent interview with Entertainment Tonight suggests that it's no big deal.
She said,
I don't really know much about their relationship. They're definitely friends and they seem great. I see Rob every single day… [he] has been in a good place lately.
Though the alleged new relationship is already in the spotlight, thanks to Blac Chyna's arrest and Rob's subsequent road trip to pick her up, Kris insists she's "proud of" her son.
She adds,
He's doing good, trying to manage all the different things in his life, being in a crazy family with a hundred sisters. It's wild.
Well, as long as he's happy.
Watch the segment below.
Citations: Kris Jenner Says Rob Kardashian and Blac Chyna 'Seem Great' as a Couple (ET), Kris Jenner Opens Up About Rob & Blac Chyna's Relationship (Refinery29)