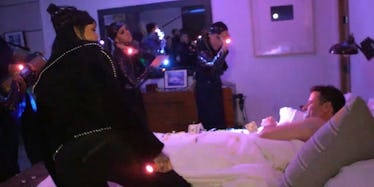 Rihanna Wakes Up Jimmy Kimmel With A Surprise Concert In His Bedroom (Video)
Yesterday, of course, was April Fools' Day, and Rihanna played a pretty great prank on Jimmy Kimmel.
Rihanna was a guest on Kimmel's show, so the morning before her appearance, RiRi broke into Kimmel's home.
She then went to his bedroom, blasted her new song, "Bitch Better Have My Money," and jumped on his bed.
Rihanna seemed to be having a hell of a time. Kimmel, on the other hand, did not.
He had no idea what was going on, and he basically just wanted to go back to bed. But, he was a good sport about the whole thing.
Check out the prank up top.