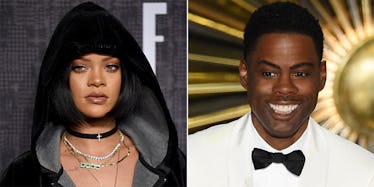 Rihanna Disses Chris Rock In Response To His Lame Oscars 'Panty' Joke
Getty Images
While hosting the Oscars on Sunday, Chris Rock joked about #OscarsSoWhite by way of Rihanna's underwear, saying,
Jada said she's not coming. Isn't she on a TV show? Jada boycotting the Oscars is like me boycotting Rihanna's panties. I wasn't invited.
I mean, the joke was pretty "meh." Also, who says "panties" these days?
According to HollywoodLife.com, Rihanna fired back with the perfect response: She laughed it off. A source said,
Not only was it funny, it was also true. She'd never invite Chris into her kitchen like that.
And while she's not looking to throw any shade in Chis Rock's direction, she's not down to bring him to bed either. According to the source,
She thinks he's funny and one of the best comedians of all time, but she's not looking to laugh in the bedroom.
Nice try, Chris Rock. Rihanna only loans her "panties" to Oscar winners, not Oscar hosts.
Citations: Rihanna's Epic Reaction To Chris Rock's Joke About Getting In Her Panties At Oscars (HollywoodLife.com)