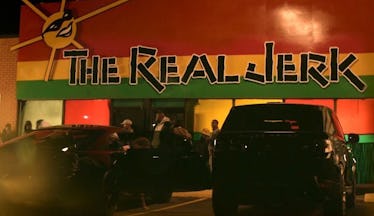 The Restaurant From Rihanna's 'Work' Video Is Bringing In Serious Cash
"Hmm, I'd rather not eat lunch at the restaurant where Rihanna and Drake made the hottest music video," SAID NO ONE EVER.
Nah man, obviously Rihanna gave The Real Jerk Restaurant, the Caribbean restaurant where she and Drake got down and dirty in her new music video for "Work," some of the best promotion you could possibly ask for.
And damn if that promo didn't work, work, work, work, work. (I'm sorry.)
After the release of the music video, the restaurant, which has been a staple in Toronto serving up authentic Caribbean cuisine for over 30 years, saw a 20 percent increase in business, according to owner Lili Pottinger in a report from TMZ.
Apparently, the restaurant is a favorite of Drake, who is from Toronto, so fans come in hoping to run into him.
Director X, who directed the music video, deliberately chose the location for the video for its authentic vibe and the island-themed decor.
In an interview with Complex, he said,
The Real Jerk is a real piece of Toronto. There's certain businesses in a city that are part of the city, The Real Jerk is that kind of place... I didn't just want to do it at a nightclub and have people dancing in a club. The artwork that's in there, the bar, we worked off of the restaurant and their theme and did what they do.
It's pretty cool to see big industry names and pop stars out there supporting local businesses. Maybe the restaurant should consider revising its name to The Real Jerk-Jerk-Jerk-Jerk-Jerk?
Citations: Sales Are Way Up At the Caribbean Restaurant From Rihanna and Drake's "Work" Video (Complex), RIHANNA & DRAKE 'Work' Restaurant Is a NO BLUNTS ZONE (TMZ)