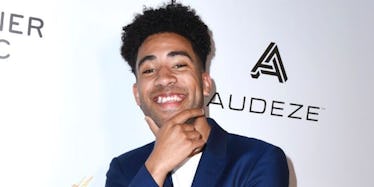 Rapper Kyle Is Opening The Teen Choice Awards And His Performance Will Be Lit
Vivien Killilea/Getty Images
The 2017 Teen Choice Awards will open with a performance by the one and only KYLE. And if your response to that news is, "Huh? Who is Kyle? Kyle who?" then I regret to inform that you are either not a teen or not a cool teen. It's OK, I'm not either. Because seriously, who is Kyle?
Well, KYLE (because apparently you're supposed to put his name in ALL CAPS), is a 23-year-old rapper from Southern California. His single, "iSpy" peaked at No. 4 on Billboard's US Singles Top 100 chart earlier this year. It's that song that he'll be performing to open the 2017 Teen Choice Awards, alongside Lil Yachty, who is featured on the track. Lil Yachty will then perform his own single, "Forever Young," followed by Rita Ora with her single, "Your Song." Other performers throughout the night include Rae Sremmurd, French Montana, Swae Lee, Uganda's Triplets Ghetto Kids, Louis Tomlinson, Bebe Rexha, Clean Bandit and Zara Larsson.
But let's get back to this KYLE guy for a second. In April Rolling Stone ran a profile on the rapper (whose full name is Kyle Harvey) that described him as "skater-nerd-chic" and "full of unbridled positive energy." The "iSpy" music video, which premiered this April is a weird mix of whimsy, childlike joy, and close-ups of busty women getting ass massages. KYLE and Lil Yachty are both depicted as young boys, while full-grown hot women act as their surrogate mothers/sex doll.
The lyrics of the song describe KYLE "spying" a girl he can hook up with because apparently, she doesn't get many likes on Instagram. (But he doesn't want her to be his wife because that would mean commitment.) So basically, KYLE is just like every other f*ckboy rapper in the game.
In his Rolling Stone profile, KYLE revealed that he grew up feeling out of place and depressed. He said he was inspired by rapper Kid Cudi, whose struggles with depression inspired him. He said,
At the time everybody in hip-hop was so damn cool and so damn perfect. And Kid Cudi came out and he was the first person I could relate to that was hurt. 'You're not weird for being depressed.' Kid Cudi has saved lives. He saved my life.
Now, in contrast, KYLE's music exudes an aggressively upbeat attitude about life and his ability to pick up large-breasted women. He said,
All I can do with my music is try and be a light for people who are in a dark time. Like, 'Shit isn't that bad. You're not ugly at all. Look at me! I just try to pick people up.
KYLE will perform at the Teen Choice Awards at 8 p.m. EST on FOX, Sunday, August 13.