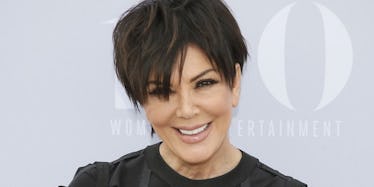 Kris Jenner Basically Told The World How She Ranks Her Five Daughters
REUTERS/Danny Moloshok
Mothers may claim they could never pick a favorite child, but let's be real for a second. You know they totally have favorites.
I mean, c'mon, the house is burning down, and you gotta pick one kid to go after first. There's going to be a decision made.
Kris Jenner is no exception to this, but it didn't take a house burning down to figure out how she ranks her daughters. It's the Kardashians, so of course it has to do with apps.
Now as we all know, updating apps is annoyingly time-consuming. Therefore, it makes sense to pick the most important app to update first, in case there is some kind of phone-related emergency you need to see to in the middle of all those updates.
On Thursday, Kris tweeted out a picture showing she was updating all her Kardashian apps and inadvertently revealed which daughter's app she picked out first.
Oops. Kind of showed your hand there, Mama Kris.
The order she chose did not escape the Internet's notice.
@KrisJenner I see you updated Kim's first — christa (@ChristaaJo) April 14, 2016  
@KrisJenner interesting that you updated @KimKardashian first.... We know who the favorite is — Phillip Baquera (@pdadddy) April 14, 2016
So here it is, ladies and gentlemen, the Kardashian sisters from most important to least important, according to their own mother.
1. Kim
Kris hit that update button on Kim so fast the update was done before Khloé's even started. I mean, duh, it's Kim.
2. Kylie
It's a tight race between Kylie and Kourt, but if you look closely, you can see Kris tapped that Kylie update sliiiightly before she got to Kourtney.
3. Kourtney
Again, it's hard to tell, but I think Kourt is just barely sliding into that third place spot in Kris' heart after Kylie.
4. Kendall
Oof, Kendall getting that clear fourth place treatment from her own mom. At least she beat Khloé.
5. Khloé
Oof. And then there's Khloé, whose app hasn't even started updating on Kris' phone. Harsh mom, harsh.