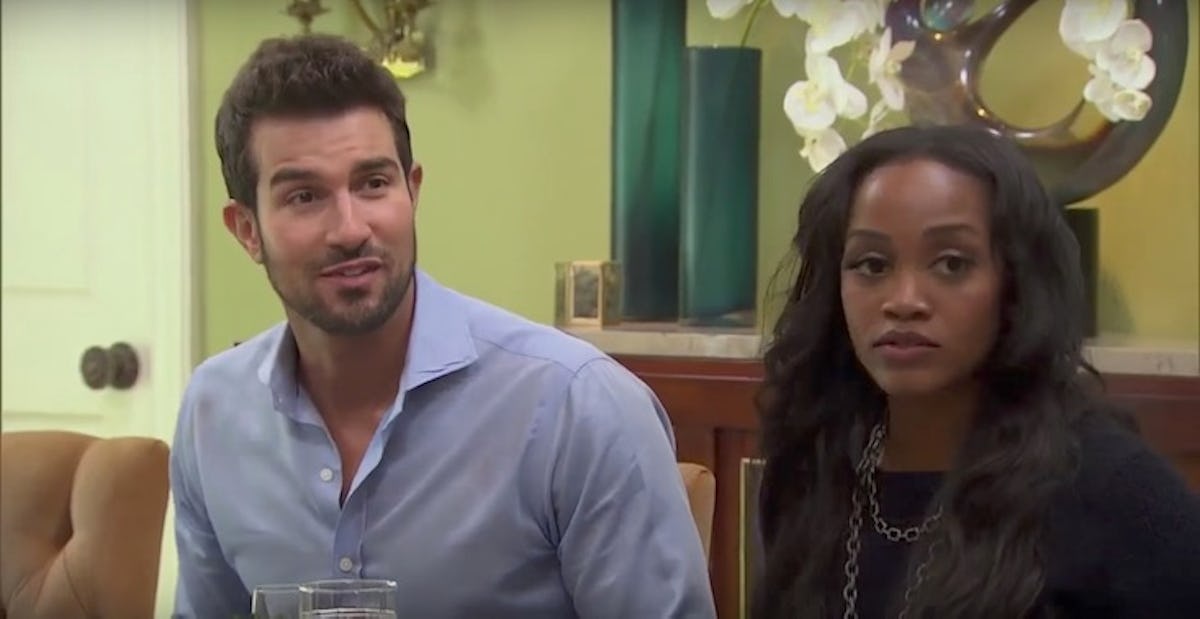 Rachel & Bryan Reveal Their Pick For The Next 'Bachelor,' And It's Not Dean Or Peter
YouTube
The Bachelorette may have just ended, but there's no rest for Bachelor Nation. The reality dating franchise is expected to announce its selection for the next The Bachelor star any day now, and now Rachel Lindsay and her newly revealed fiancé Bryan Abasolo are sounding off about the guy from their season who they think should be given the chance to look for love on the new season. During an interview with Good Morning America Tuesday, the newly engaged couple revealed Bryan and Rachel's pick for the next Bachelor is Alex Bordyukov from their season.
Now, this is a pretty unexpected choice, given that Alex didn't stand out too much from the other guys this season. He did make it to Week 6 and was among the final nine contestants for Rachel's heart, but wound up getting cut. Most Bachelorette fans are expect more standout contestants like Dean or Peter to be chosen as the new Bachelor, but Bryan argued he thinks Alex would make a very interesting season if he's selected.
He's just a quirky, fun personality, funky dresser. He's a really smart guy, has a high IQ. I just think he'd make a really interesting season.
Rachel added she doesn't think the viewers got to see enough of Alex.
America didn't see enough of him. He'd be great.
Alex certainly did know how to stand out when it came to outrageous clothing. Remember this purple, zebra-print blazer?
But a daring fashion sense may not be enough to clinch the coveted Bachelor position. After Monday night's emotional Bachelorette finale, most of the show's fans are convinced runner-up Peter Kraus is the clear choice to helm next season of The Bachelor. After an intense, tear-filled breakup scene during his final date with Rachel, many fans even believe Peter was purposefully throwing the competition in order to be in the running to be the next Bachelor.
And don't count out Dean, either. The final four contestant is starring on this season of Bachelor in Paradise, which is where last season's Bachelor Nick Viall came from. All the clues point to the new Bachelor announcement coming at the end of this month, so keep your ears open.
Check out Bryan and Rachel's full Good Morning America interview below.