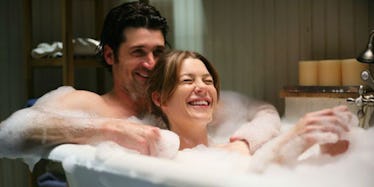 7 Qualities Of Love We're All Looking For, As Told By Meredith And Derek
Disney
Meredith Grey and Derek Shepherd from "Grey's Anatomy" set the bar high, as far as #RelationshipGoals are concerned.
They met in a bar one night and hooked up. The following day, Meredith shows up to start her internship at Seattle Grace Hospital… where Derek just so happens to be an esteemed surgeon.
Needless to say, things were crazy awkward. But they couldn't ignore their feelings for one another.
Hearts shattered everywhere when Derek chose to repair his relationship with his wife, Addison, over embracing his new love with Meredith.
Even though Meredith and Derek end up together, in the moment, we were throwing silent daggers at McDreamy. We knew he was making the wrong choice. It hurt so much, we felt like we had gotten broken up with too.
And we DID end up loving Addison in "Private Practice." But that's another story for another day.
Here are seven qualities of love we're all secretly looking for, as told by Meredith and Derek:
1. Love trumps all.
At the end of the day, when it comes down to it, all we really want is to be close to somebody.
— Meredith Grey
2. True love is never settling for anything less than your heart desires.
When we follow our hearts, when we choose not to settle, it's funny, isn't it? A weight lifts. The sun shines a little brighter, and for a brief moment at least, we find a little peace.
— Meredith Grey
3. Love FEELS right. It's about two people who fit together perfectly, even if you don't know it at the time.
The first time I kissed my wife, she wasn't my wife then, she was just this girl in a bar. But when we kissed, it was like, I gotta tell you, it was like I'd never kissed any other woman before. It was like my first kiss. The right kiss.
— Derek Shepherd
4. Love is addictive.
More tequila. More love. More anything. More is better.
— Meredith Grey
5. The big kind of love happens when you least expect it.
When something begins, you generally have no idea how it's going to end. The house you're going to sell becomes your home, the roommates you were forced to take in become your family and the one night stand you were determined to forget becomes the love of your life.
— Meredith Grey
6. Love is taking a chance, and giving it your all.
Maybe I do believe it, all this "meant to be" stuff. Why not believe it, really? Who doesn't want more romance in their life? Maybe it's just up to us to make it happen. To show up and be meant for each other. At least that way, you'll find out for sure – if you're meant to be or not.
— Meredith Grey
7. Love is feeling your life would be incomplete without your other half.
Derek:
I thought DC was everything. I was wrong. You... you're everything. I love you, and I'm not going to stop loving you. I can't live without you. I don't want to live without you, and I'm going to do everything in my power to prove it.
Meredith:
I can live without you, but I don't want to. I don't ever want to.
Derek and Meredith had many road blocks along the way that kept them from working out, but surviving them is what made their love so real. The obstacles were worth every second of the chase, as well as the end result.