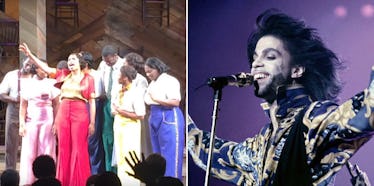 'The Color Purple' Cast's Emotional Tribute To Prince Will Make You Cry
Graham Wiltshire/REX/Shutterstock
In the wake of Prince's sudden death on Thursday, many celebrities and musicians are paying tribute to the late, great musical legend.
Broadway stars are also paying their respects, including a dance session led by Lin-Manuel Miranda after last night's performance of "Hamilton."
But if you really want to cry, watch this tribute from the cast of "The Color Purple," in which Jennifer Hudson leads everyone in a cover of Prince's famous song "Purple Rain" after Thursday night's show.
Everyone sounded incredible, and the audience joined in. Jennifer absolutely slays those notes, and Cynthia Erivo's voice actually gave me goosebumps.
I really didn't want to cry, but I did. Prince would have loved this.
Citations: Jennifer Hudson and the Cast of The Color Purple Pay Tribute to Prince in the Perfect Way (POPSUGAR)