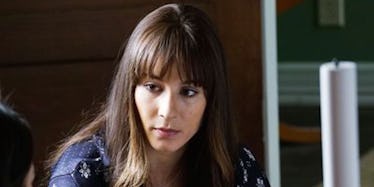 'Pretty Little Liars' Showrunner Actually Revealed A.D.'s Identity A Long Time Ago
Freeform/Ron Tom
A lot of sh*t went down during last week's series finale episode of Pretty Little Liars. We said goodbye to the girls of Rosewood for the last time, we saw an Ezria wedding, and we finally learned the long-awaited identity of A.D.
Interestingly, though we waited a long time to see all of these things actually play out, none of them were really secrets.
We knew we'd say goodbye to the Liars eventually, we knew (at least on some level) Aria and Ezra would end up together, and we knew who A.D. was going to be.
Yea, I said that. We literally knew who A.D. was for almost three years. While the weeks preceding the finale episode were filled with speculation about who the mysterious texter would be, all the clues we needed were right in front of us.
In a 2014 interview with The Wire, recently uprooted by Refiner29, PLL showrunner I. Marlene King revealed A.D.'s identity. When asked about her favorite fan theory, King said,
Troian [Bellisario] sent me a theory the other day that I thought was amazing, and it was so well thought out, it was that Spencer has a twin, and that person is A. When I read through all of the information the person delved out, I thought 'Oh my gosh, this is a really well thought out plan, and it's kind of a good one.'
OK, maybe she didn't *officially* spoil A.D.'s identity, but still, it's cool to think we've known the show's plans for all these years without even realizing it.
Troian Bellisario, who plays Spencer and Alex Drake on the show, is also known for dropping hints about the show's big moments. In an interview with Entertainment Weekly, Bellisario said,
I feel like in the past I've definitely said the truth about some things because I knew people wouldn't believe me. That was the best way to keep the secret — to bluntly say exactly what would happen and then say, 'But can you ever trust me?' And because I've been on a show with the word 'liar' in the title, nobody believed me!
In fact, she was open about how she used to tease fans about the most anticipated reveal in the show's history. The actress told Elle,
[F]or a long time, people would ask, 'Who's A.D.?' And I'd say, 'It's me!' And everyone would just laugh. It's kind of great when you have a secret that so few people — only me, Marlene, and a handful of others at that point — know. It means you can hide in plain sight.
Clearly, the cast and crew of Pretty Little Liars were just as good at dropping hints IRL as they were on the show. Now I'm just curious what else we might've missed all these years while we were sweating watching our TVs.