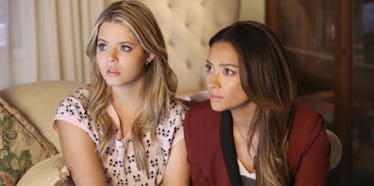 You Won't Believe Who The Father Of Emily And Alison's Twins Is
Freeform
The mystery father of Emily and Alison's twins has finally been revealed on the Pretty Little Liars series finale... by Spencer's surprise twin. Call that a surprise within a surprise.
Before we could even appropriately digest that Spencer has an evil twin from the UK named Alex Drake, the twin revealed to Spencer that she killed Wren (who is Spencer's and her sister, Melissa's, ex-boyfriend). She also used his sperm with Emily's eggs to impregnate Alison. So that makes Wren the father of Emily and Alison's babies.
Yeah, ish just got realer than real.
Alex and Wren were apparently in a relationship. They even double-dated often with Archer and Charlotte.
Alex tells Spencer that Wren wanted to be with her but only as herself and not Spencer.
She said,
I didn't want to be her anymore. I turned his ashes into an eternity stone. At least diamonds last forever.
So now it's officially official that the twins are going to be fatherless. But at least they have two great moms and absolutely great genes, you know, with Wren and Emily's individual hotness and all.
Wren's Newfound (And Short-Lived) Fatherhood Has Fans Spinning
Emily and Alison have not yet found out that Wren is the father but this news just might knock the wind out of them. And if that doesn't, the fact that their friend's evil twin is the one who knocked up Alison just might do the job.
The best thing about all of this is that Alison no longer has to worry about that no-good, conniving, disgusting Archer guy being Lily and Grace's father.
At least Wren was semi-nice nice. And very, very hot.
The Most Important Question Here, Though: Are The Twins Safe?
"A" has made a habit out of putting hands on the most precious, seemingly untouchable people on the show. Remember how "A" had Spencer kidnap the baby that Ezra thought was his? She did it to find Toby and the kid ended up safe, but still...That was a lot.
Let's hope these babies stay safe and that Alex steers clear of them, if she ever escapes Mona's clutches.