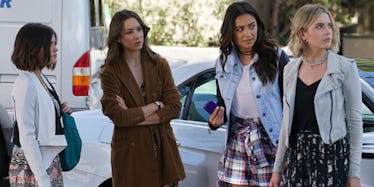 We Made A 'Pretty Little Liars' Family Tree So You Can Save Brain Space
ABC
"Pretty Little Liars" had its summer finale on Tuesday night. It went beyond expectations of being completely insane.
Showrunner I. Marlene King and the "PLL" actresses revealed on Monday this upcoming season is the final one, with only 10 episodes left starting in April. And then we can all finally get our lives back.
However, we now have eight months to sit around and try to figure out what the frick is going on in "Pretty Little Liars."
Seriously. Let's do a quick recap of everything that happened in the last 12 minutes of the #PLLDeathTrap summer finale:
1. Jenna walked around an abandoned house swinging a gun.
Much like in "Jurassic Park," the liars couldn't move or make a sound in order to avoid getting shot.
2. Toby and Yvonne got in a car crash?
Unclear.
3. Noel Kahn got LITERALLY BEHEADED.
LITERALLY.
BEHEADED.
NOEL KAHN GOT LITERALLY BEHEADED.
One more time: Noel Kahn got literally beheaded.
BEHEADED.
4. Jenna shot Spencer!
Bad! Although all five actresses have been showing social media evidence of them back on set, Troian Bellisario is directing episodes, so maybe she's just directing and not acting. YOU GUYS, maybe she's actually dead.
Like dead, dead.
5. A.D. took Jenna away.
So Jenna's not A.D., Mary Drake's not A.D., Noel Kahn's not A.D.! COOL. Am I A.D.????
6. Mary Drake crept out of the shadows and revealed she's actually Spencer's mother.
OK, so with this news in mind, that means Noel Kahn isn't Mary Drake's secret child, which means Noel Kahn was just some fucked-up kid doing fucked-up things? How did he get involved with all this BS? Why does I. Marlene King keep trying to make Noel Kahn happen?
7. Also, wait, NOEL KAHN GOT BEHEADED??
WHAT?
So yeah, there was a lot to process.
Over here at Elite Daily, we love you and want to take care of you, so we made you a "Pretty Little Liars" family tree so you don't have to waste any more extra time thinking about this stupid, wonderful show.
With the news that Spencer is Mary Drake's daughter, the DiLaurentis/Drake/Hastings family is all kinds of mixed up. Take a look:
1. Mary Drake and [who knows] had Charlotte.
AKA CeCe, AKA A, AKA dead now (apparently).
2. Mary Drake and Peter Hastings (?) had Spencer.
This makes Spencer and Melissa only half-siblings. (Previously: full-siblings)
3. Peter Hastings and Jessica DiLaurentis had Jason.
This is old information, keep up.
4. Peter and Veronica Hastings had Melissa.
PRESUMABLY.
This makes Jason, Melissa and Spencer all half-siblings. Peter!
5. Jessica and Kenneth DiLaurentis had Alison.
Also presumably.
So:
Charlotte and Spencer are half-siblings.
Charlotte and Jason are cousins.
Charlotte and Ali are cousins.
Spencer and Jason are half-siblings and cousins.
Spencer and Ali are cousins.
Spencer and Melissa are half-siblings.
Jason and Ali are half-siblings.
Jason and Melissa are half-siblings.
I am lost.
So, uh, try and memorize that over the next eight months, I guess.
Also, Noel Kahn's head got chopped off????