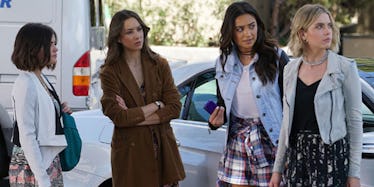 Here's What The 'Pretty Little Liars' Were Doing 10 Years Ago
ABC
I hate to admit it, but "Pretty Little Liars" will always be my guilty pleasure. For the last five years, this show has destroyed my life by keeping me up at night, desperately needing answers.
I tuned in week after week in hopes of finding out who "A" really was. My prayers were finally answered this past August when "A's" true identity was revealed.
All I can say is, THANK THE F*CKING LORD.
Anyway, I feel like I've known the "PLL" leading ladies my whole life. It's been one of hell of a rollercoaster surviving Rosewood with them after everything that's gone down. In the end, it's only made us closer (I love you girls).
Although it feels like a lifetime, I've only really "known" the cast of "PLL" for a few years. Did they even have lives before Rosewood? Try to picture Spencer Hastings as a child. LOL, it's literally impossible.
After a hardcore investigation, I learned that these ladies actually had quite a lot going on before their ABC Fam debut.
Below, you can check out my findings and see what the girls were doing when they were only pretty little tweens.
Ashley Benson (Hanna Marin)
Ashley had quite the career as a youngster. In 2004, she played Abigail Deveraux on "Days of Our Lives." Can you even picture Hanna being in a soap opera? Eh, I guess I can. "PLL" did get pretty dramatic...
More importantly, Ashley was in the famous rom-com, "13 Going on 30" starring Jennifer Garner. She was one of the blonde girls in the mean-girl squad. Man, the girl really loves her cliques.
Check out baby Benson in the scene below, it'll bring you right back to 2004.
She was also this random girl on "Zoey 101." Quinn wanted to watch her make out. https://www.youtube.com/watch?v=-lbOO6ovDhg
Those were the days.
Lucy Hale (Aria Montgomery)
Lucy used to have braces. She also used to be a contestant on "American Juniors," a singing competition for tweens. In the clip below you can hear her audition. Her voice is actually pretty impressive. Damn Ezra Fitz, you are one lucky man.
Oh, and here she is with crimped hair. You're welcome.
What a style icon.
Troian Bellisario (Spencer Hastings)
Prepubescent Troian actually starred in one of the greatest movies known to mankind, "Billboard Dad." Yes, that is the Mary-Kate and Ashley Olsen movie where they make a billboard advertisement for their single father.
Troian played Kristen. Here's a clip of her laughing at some kid who fell in the pool.
Silly Troian.
Shay Mitchell (Emily Fields)
Surprise! Way back when, Shay-baby was on an episode of "Degrassi." LOL. OK, she may be a late teen in this clip but whatever. It's close enough.
Here she is chilling in a bikini and talking about high school drama. You know, the usual.
She also happened to star in Sean Paul's music video in 2009. She sniffs his clothes and holds his hand. It's cute.
Killing it, Em.
Janel Parrish (Mona Vanderwaal)
Sooooo... Mona can sing. And when I say "sing," I mean "take the freaking house down." Who knew? Janel Parrish was actually Little Cosette of "Les Miserables" for the Broadway Company.
Below, listen to her sing "Castle On A Cloud" at age 14.
DAMN, MONA. Maybe you could have used singing as an outlet for creative expression instead of trying to kill people. IDK, just a suggestion.
She also played Jade in the 2007 movie "Bratz." Here's a clip of her sick music video for the movie. Love the blue highlights and lipgloss, girlfriend.
PS: You can fast forward to 1:30 to watch random children gather around her as she inspires an entire generation never to give up on their dreams. Mona for President 2016.
Sasha Pieterse (Alison DiLaurentis)
It's time to talk about the queen. You'll never guess what Ali was up to before she got to Rosewood. Are you ready for it?
She actually was the Ice Princess in "The Adventures of Sharkboy and Lavagirl."
REALLY, I'm not kidding. I can't make this stuff up.
She also was the creepy goth girl who put a spell on Charlie in "Good Luck Chuck." Ring a bell?
She's really come a long way.
Now, I know I was just highlighting the leading ladies of "PLL," but I have to talk about Tyler Blackburn (Caleb Rivers) for a second.
DID YOU KNOW HE WAS IN "UNFABULOUS" IN 2005? Because I didn't.
Yeah, um, he's really grown up since then.
Wow, what throwbacks. "Pretty Little Liars" returns on Tuesday, January 12, at 8 pm. Only a few short months until you get to have your life destroyed all over again.
I. CAN'T. WAIT.