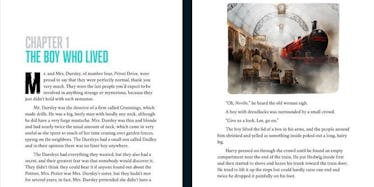 Your Prayers Have Been Answered: 'Harry Potter' Is Now On iBooks
A couple of weeks ago, I got the most overwhelming urge to re-read the "Harry Potter" series.
It came out of nowhere, and the desire was unrelenting; I even looked to Apple to see if I could download digital versions of the magical tales because my well-worn copies are currently stored away at my mother's house.
Alas, Apple had yet to capitalize on the series (though the books were available for purchase via Rowling's fan site, Pottermore), and I was left to scratch my itch with a three-day-long movie binge (which, I will admit, did the trick).
This morning, however, the universe answered my prayers: I got an email from a woman in PR announcing Harry Potter has officially gotten the Apple treatment.
The new iBooks, available for download on Apple devices through the Apple Store, include the full text as well as some new and pretty awesome features: Custom text, shiny new digital covers and more than 200 original digital illustrations (some animated!) to enhance the magic.
JK Rowling released a statement addressing the news, saying,
I'm thrilled to see the 'Harry Potter' books so beautifully realized on iBooks for the digital world; the artwork and animations in these enhanced editions bring the stories alive in a delightful way.
Delightful, indeed. The digital editions — aptly titled "Harry Potter Enhanced Editions" — are available now, starting at $9.99 a book. Foreign-language versions launch internationally on November 9.
Citations: Harry Potter gets more magical with new iBooks Enhanced Editions (Mashable)