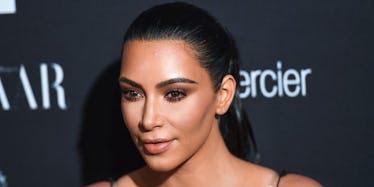 Pornhub Is Offering $50,000 Reward For Info About Kim Kardashian's Robbery
REX/Shutterstock
When you think of Kim Kardashian's "family," I'm sure a lot of names come to mind — Kanye, North, Saint, Kris, Kylie, Kendall, Khloé, Kourtney. The list goes on and on.
But who's probably not making the top of your mental list? Pornhub.
In a recent press release, the adult-movie giant calls Kim "a member of the Pornhub family" (we all remember the scandalous sex tape she made with Ray J that put her on the map in the first place) and says it wants to help her out in light of recent events.
Pornhub is offering a "$50,000 reward for information leading to the arrest of Kim Kardashian robbers." I mean, $50,000 is still only a small fraction of the $10 MILLION in jewels she lost in the robbery, but it's still a nice gesture from her "family" over at Pornhub.
In the press release, Corey Price, Vice President of Pornhub, expressed his sympathy for Kim's experience: "Here at Pornhub we were deeply saddened to hear about the horrible incident involving Kim in Paris. We consider Kim to be a member of the Pornhub family and want to do all that we can to ensure that the perpetrators of this heinous crime are brought to justice."
We consider Kim to be a member of the Pornhub family.
Price then went on to say, "We are calling on all of our fans from around the world to come together and work collectively to provide any and all information relating to the crime so we can capture the criminals."
OK, so Kim's relation to the porn industry is definitely not the first thing we think about when we talk about her. Like, she is probably the most famous person in the world at this point, regardless of the sex tape.
But even if we've all forgotten about Kim's naughty sex tape, Pornhub hasn't. And they are happy to come to her rescue.
They say you find out who your real friends are in tough times.