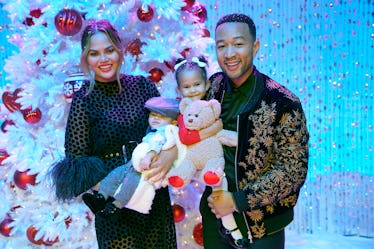 30 Photos Of Luna & Miles Eating Like The True Foodies They Are
NBC/NBCUniversal/Getty Images
Chrissy Teigen is a multi-talented mama. Among her many talents are her knack for cooking and creating super-successful cookbooks. While her social media profiles is full of photos of food and her kids, some of her best content combines both of those things. These 30 photos of Luna and Miles eating are proof they're foodies just like their famous parents.
Whether Miles and Luna are enjoying a lunch at home, testing out recipes for one of Teigen's books, or munching on snacks at the park, the tots are always game for a good meal. Teigen isn't the only one who has a way with food. John Legend is also known to try his hand at cooking meals that Teigen and their kids will all appreciate.
While there's nothing better than watching Miles and Luna thoroughly enjoy their food, it's also extremely entertaining when they are their parents' biggest critics. Like the time Miles was a very tough person to please when Teigen had him test out a Super Bowl recipe. Or when Luna refused to serve fake Thai food to her grandma while playing "restaurant" in their backyard. The list goes on and on, so now it's time to take a look at 20 photos that show Luna and Miles in all their foodie glory.
This article was originally published on