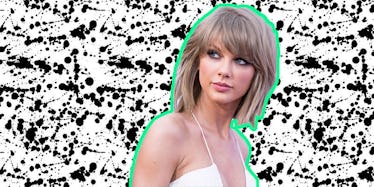 People Are Mourning The 'Death' Of Taylor Swift At This New Memorial Site
REX/Shutterstock
NAME: Taylor Swift STATUS: Deceased CAUSE OF DEATH: Slain in the West Family Dragging of 2016 TIME OF DEATH: IDK, someone check Kim's Snapchat story
A mural in Melbourne, Australia stands to commemorate the life and career of Taylor Swift following the brutal feud between the 26-year-old and rapper Kanye West.
On Sunday, Kanye's wife, reality TV personality and corset revivalist Kim Kardashian West, shared a series of video clips to Snapchat featuring a phone call between Kanye and Tay Tay that proved the pop star's knowledge and support of Ye's misogynistic mention of the her in The Life of Pablo chestnut "Famous" prior to the song's release.
The videos reflected poorly on Taylor, who denounced the lyric in her Grammy acceptance speech long before Kim's Snapchat bombshell.
Now, artist Lushsux has memorialized Taylor with a mural featuring her portrait and text reading, "In Loving Memory of… Taylor Swift 1989 - 2016."
Upon closer inspection, the mural actually appears to read "Taylor Smith" rather than "Swift," though Lushsux confirmed to Daily Mail the kerning was "an unintentional mistake" rather than an attempt to avoid legal action from the musician.
A ledge beneath the mural reads,
NO TAGS PLEASE RESPECT THE DEAD.
A video on Lushsux's Instagram encourages mourners to light candles and leave flowers to honor the end of the Swift era.
Sadly, if the artist's Instagram updates are to be trusted, Lushsux's original work has since been painted over by someone with less respect for Swift's legacy.
RIP Taylor Swift/Smith. We shall never forget the sweet sound of your songs.
Citations: Huge 'RIP Taylor Swift' mural is painted in a Melbourne laneway following singer's feud with Kim Kardashian and Kanye West... but the artist makes an embarrassing typo Read more: http://www.dailymail.co.uk/tvshowbiz/article-3698711/Huge-RIP-Taylor-Swift-mural-painted-laneway-Melbourne-following-singer-s-highly-publicised-feud-Kim-Kardashian-Kanye-West.html#ixzz4EyK4YTZk Follow us: @MailOnline on Twitter | DailyMail on Facebook (Daily Mail)