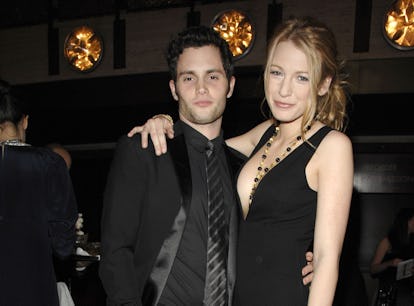 Penn Badgley Said His Relationship With Blake Lively "Saved" Him
Patrick McMullan/Patrick McMullan/Getty Images
S and Lonely Boy might not have made it work IRL, but it doesn't sound like there are any hard feelings between them. On Feb. 15, Penn Badgley spoke to Variety about his relationship with former co-star Blake Lively, and things seemed totally amicable. During the interview, Badgley even said Lively "saved" him.
Badgley and Lively dated on-and-off from 2007 to 2010, while Gossip Girl was filming. "Beyond our relationship, I don't think anybody was going to be interested in me publicly," Badgley told Variety.
He described that period of life as "fun and fast-paced," but there was a "dark undercurrent that would bottom out in my later 20s." He explained, "Like anybody who experiences some degree of fame and wealth, I was presented with the universal truth that not only does it not make your life better or easier, it actually can greatly complicate things, and make you quite unhappy."
At the time, Badgley struggled to find his footing. "I was never anything that I would define as suicidal at all, but I was certainly in a despair," he explained. "It had to do with 'Do I matter? Do I matter? Does anything matter?'"
Per Badgley, this heaviness had nothing to do with any substance abuse, thanks to Lively. "To be honest, I never struggled with substance. Blake didn't drink, and I think our relationship in some ways saved me from forcing myself to go down that road," he said.
Badgley has spoken about Lively before. In a May 2013 interview with Elle, he explained how they handled working together post-breakup. "We were very much caught up in the show, which itself was a six-year endurance test," he said. "Our relationship was a part of that and helped us through it. I mean, like anything valuable, it was good and it was bad and it was a learning experience."
Lively has said similarly amicable things about their 'ship. "Every relationship you have, you're learning and growing and taking something from that," Lively told Glamour in 2011, per Us Weekly. "So for me, it's never been too dramatic of a thing when something ends."
If you or someone you know is seeking help for substance use, call the SAMHSA National Helpline at 1-800-662-HELP (4357).