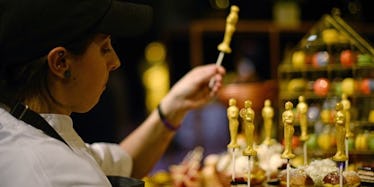 Celebrities Will Get Another Insane Oscars Swag Bag Worth $20,000 This Year
Getty Images
This Oscars season, famous folks are being compensated for the drawbacks of fame with mountains of free crap.
Living without privacy can be tough, but accepting bags of complimentary 3D printing pens, laser treatments and trips for two to Saint Martin sure softens the blow.
Event planning firm GBK is operating out of the London Hotel in West Hollywood this Oscars season, handing out enviable swag to the special among us.
Are you excruciatingly well-known and in the market for $8,000 worth of sunglasses from a Beverly Hills vision center? Then it's your lucky day because GBK's gifts cover it all.
Even if Leo walks away from this year's ceremony without finally achieving his Susan Lucci moment, he can try to fill the void with $20,000 worth of swag.
Citations: OSCARS SWAG SUITE $20K WORTH OF VACAYS, FAT BURNING ... And Schmancy Gum (TMZ)