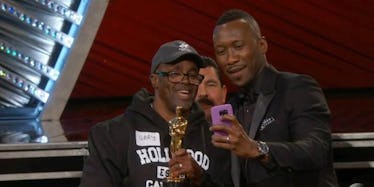 Gary From The Oscars Explains Attempted Rape Conviction: 'I'm Not Some Monster'
ABC
You might remember him as "Gary from Chicago" or "Gary from the Oscars."
Unfortunately, after reports of Gary's criminal past, most people now know Gary as the hand-kissing, fianceé-having dude at the Oscars who served a 20-year prison sentence for attempted rape.
As we all know, the internet has a magical way of bringing all of your skeletons out of the closet following your newfound fame. Gary learned the hard way.
On February 28, reports surfaced stating 59-year-old Gary Coe had just been released from prison last week following a 20-year sentence for theft and attempted rape charges.
The news crushed Coe and fiancée Vicki Vines. After all, it was just days ago the couple's Hollywood tour bus was unloaded at the Dolby Theater for the Oscars.
Coe had the privilege of interacting with A-list Hollywood celebrities like Meryl Streep and Best Supporting Actor winner Mahershala Ali from "Moonlight."
Denzel Washington even pretended to marry Gary and Vicki on the spot.
Now that the unexpected news is out, Gary is looking to redeem himself and clear the air by explaining his attempted rape conviction. In a new interview with "Inside Edition," the ex-convict explains,
That I'm not a monster. I'm a changed man. That I've made mistakes. That I am really remorseful and ashamed of when I was a teenager, but now I am 59 years old and a changed man.
The 59-year-old Oscars sensation then went on to speak directly to the women of his past, saying,
For all of those women affected by my past, Gary is a changed man. People saw the real me there. I respect women. I'm not some monster.
Take it or leave it, Gary has delivered his owed explanation to the world. His fiancée Vicki Vines had something to say, too. It had nothing to do with Gary's criminal past, though.
As a matter of fact, Gary met Vicki after wrongdoings. Vicki and religion helped Gary find clarity and peace in his life. All she had to say was if she had known she was going to be at the Oscars, she would have been dolled up.
I would not go there looking like I'm looking if I'd have known I was going to see Denzel Washington [or] get kissed by [Ryan Gosling]… Oh, my goodness!
It's all good, Vicki. I was in my jammies the entire night. Plus, it's LA -- anything goes in "la-la land."
Citations: Controversial Oscars Viral Star 'Gary From Chicago' Tells His Story: 'I'm Not Some Monster' (Perez Hilton)