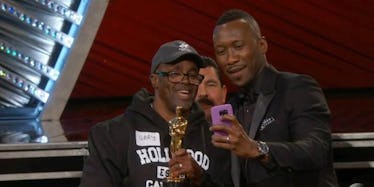 Sorry Meme-Makers, Gary From The Oscars 'Attempted Rape By Fear Or Force'
ABC
Gary from Chicago had a few dreams come true on Sunday night when his Hollywood tour bus was unloaded onto the stage of the Oscars.
He rubbed elbows with Hollywood's biggest stars, like Meryl Streep, held a real Oscar that belonged to Mahershala Ali and was "married" by Denzel Washington himself.
The audience at the Dolby Theater was charmed by Gary and his fianceé Vickie, who were both stunned to be there front and center on the biggest night in Hollywood.
Vickie held a selfie stick the entire time and looked absolutely gobsmacked.
Unfortunately, because of the cute stunt to surprise the tourist, Gary from Chicago's dirty laundry is being aired out.
Gary was just released from a California prison last week after he served 20 years for a number of felonies.
One of these felonies included "attempted rape by force or fear."
The 59-year-old, who is now a registered sex offender after the attempted rape when he was 20 years old, told ABC7 he found Vickie and religion while he served time for the crimes.
After the attempted rape, he committed two robberies and was later incarcerated in California for grand theft.
This makes all of those once-adorable hand kisses seem a little less charming in hindsight.
Gary said,
Change is possible. It's a sad day to be in prison for 20 years and not be able to be a dad, granddad to your children. You know what my son told me today, man, and I almost come to tears? He said he's proud of me. So, to hear your children say that they're proud of me means the world to me.
Gary's jail term was originally a life sentence because of the strict "three strikes and you're out" laws that made his third felony (stealing a bottle of $79 perfume from a store) an automatic life sentence with a minimum of 25 years.
He petitioned to have the theft downgraded to a misdemeanor and for a re-sentencing, which lead to his release.
Gary's public defender Karen Nash wrote on Facebook she had spent years working on his case. She wrote,
I'm so proud of Gary! For a man who was treated pretty unfairly by the justice system, he has zero negative energy. He's all about joy and positivity and patience.
Citations: Oscars Sensation 'Gary From Chicago' Reportedly Just Got Out Of Jail For Attempted Rape… (Perez Hilton)