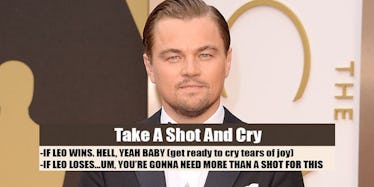 This 'Leo At The Oscars' Drinking Game Is More Important Than If He Wins
Getty Images
This Sunday, the red carpet will roll out and celebrities will gather for Hollywood's greatest night: the Academy Awards.
The best films of 2015 and the people behind them will be honored at this year's ceremony, but it seems like there's only one question on everyone's mind: Is this the year Leonardo DiCaprio will finally win a damn Oscar?
He's been nominated for several films over the course of his career, including "What's Eating Gilbert Grape," "The Aviator," "Blood Diamond," "The Wolf of Wall Street" and now, "The Revenant."
The guy literally slept inside a dead bear for this role. If he doesn't win it this year, I give up on life.
I know I'll be on the edge of my seat the entire night, saying prayers for Leo in-between commercial breaks. But what I'll also be doing is drinking away the nerves with some vodka sodas and a few tequila shots. And by "few," I mean probably an entire bottle.
I feel like alcohol is needed in order to make it through this night alive. Without a few drinks, I'm not sure I can survive this. I'm sure Leo feels the same.
LIKE, WHAT IF HE LOSES? Dear God, let's not even think about that.
If you're planning on watching the Academy Awards this Sunday, February 28, AND if you're rooting for Leo all night long, check out this "Leonardo DiCaprio at the Oscars" drinking game.
It'll help you celebrate the night if Leo wins and comfort you if he loses. Either way, we've got your back.
Stay safe, folks. Remember, no matter how the night ends, never drink and drive.
OH, we'll also be tweeting the event all night long on @EliteDaily, so stay tuned for our live updates. We'll also be Snapchatting live from the red carpet (EliteDailySnap) so check us out on there, too!
Now go grab your liquor, a shot glass and a box of tissues. It's the Oscars; anything can happen.
GOOD LUCK, LEO. Please, for all of us, take that trophy home.