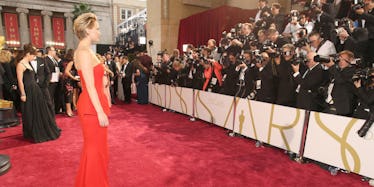 How Stars Get Their Skin Red Carpet Ready, As Told By A Dermatologist
by Dhaval G. Bhanusali, MD
Getty Images
With fashion week having just wrapped up and the Oscars coming in a matter of days, it's a busy time for many dermatology offices around New York and Los Angeles.
Have you ever wondered which procedures are popular before hitting the runway or red carpet? Or what kind of skincare regimen celebs swear by?
Although healthy skin is usually a long-term commitment, there are various procedures and treatments we use in order to get patients ready for their big day in a pinch.
Long-term treatment:
Pretty much everyone who walks through our doors requests a comprehensive skincare regimen that minimizes blemishes and softens wrinkles.
While I'll get into specifics (depending on skin types and conditions) and my personal recommendations in subsequent articles, here are some rules that can be universally adopted.
Cleanser
I usually recommend two. The first cleanser should be used daily, and functions to simply remove superficial debris and keep the skin fresh.
A second cleanser should be more exfoliative, containing either alpha or beta hydroxy acids, and is better suited to really remove dead skin cells and unclog pores.
At most, this should be done one to two times per week. Overdoing it can strip the skin of the natural oils that help protect the superficial skin layers and compromise its integrity.
Just like using your Clarisonic, aggressive exfoliators need to be done in moderation or the bad can outweigh the good.
Morning moisturizer
Adding a daily moisturizer with a sunscreen (at least SPF 30 or it's not going to do the job) is equally important.
It needs to be light but still hydrating. If you have specific issues such as dark spots, ingredients like soy are great natural actives to even out skin tone.
Eye cream
Look for ingredients like caffeine, green tea or Vitamin C.
Here's a nice derm-hack: Place whichever eye cream you use in the fridge in between uses. When you apply it, the cool temperature will constrict the blood vessels in the area and minimize "puffiness" in addition to delivering the actives your skin needs.
Additionally, on the day of an event, I always recommend sleeping with an extra pillow in order to keep the head elevated and minimize the pooling of fluid under the eyes. Gravity is not your friend.
Evening retinoid cream
The staple of any anti-aging routine (and what pretty much every actor/actress/ performer/ model we see uses) is an evening retinoid cream.
Retinoids stimulate collagen (to prevent sagging and minimizes wrinkles), even out pigmentation, shrink pores and improve those pesky acne breakouts.
The main issue with retinoids is they tend to be incredibly drying, so finding the one right for you may take a little bit of trial and error with your dermatologist.
This is the holy grail of derm ingredients, and the single most important part of your event preparation.
Three months until the event:
Fraxel laser treatment
This is a medium-strength laser used to retexture the skin, best suited for people in their mid-to-late 30s and 40s.
This is ideal for improving shallow scars/wrinkles, lightening age spots and improving the overall texture of the skin.
Patients usually get one to two treatments with at least four weeks in between each visit. A new trend is combining Fraxel procedures with topical cosmeceuticals in order to enhance effects.
Ideal patient: One where dark spots are very bothersome, acne scars are apparent and the patient has moderate to severe skin texture issues.
Generally not recommended for darker skin types due to the risk of hyperpigmentation although a lighter option, called Clear + Brilliant, may be suitable in certain situations.
Four weeks before the event:
For rejuvenation and the "fresh look" that people want, we like to use products rich in antioxidants.
More recently, we have started utilizing PRP, derived from your own blood, with our radiofrequency microneedling procedure (a device by Endymed).
Think of it as a "supercharged" version of the vampire facial made popular by Kim Kardashian. Patients have been incredibly happy (less prominent wrinkles, brighter complexion, MUCH better skin texture).
Ideal patient: People in their 20s and early 30s who just want to look fresh and make any scars/blemishes appear more subtle. Suitable for all skin types.
Week of event
Laser Genesis
This is also know as an ND:YAG laser. Patients usually come in either the day before or the day of the big event for this quick, minimal downtime, non-invasive procedure.
The treatment feels like warm "drops" on the skin (some patients describe it as a "spa-like" experience).
The benefits with acne scars were previously written here. This helps long term with evening out skin tone and stimulating collagen but most people come here for the "glow" that's associated with treatment.
Many of my patients note the minimal need for makeup and the look of "just getting back from an incredible beach vacation."
Ideal patient: Pretty much everyone. Suitable for all skin types.
Last second/ day of event catastrophes
Given the stress of big events, a last minute breakout is all too common.
Usually our patients come in early in the day and get a shot of kenalog (steroid) to decrease the inflammation and reduce the raised appearance of the lesions.
The medication can work as soon as a few hours, but can take up to a day or two. If there's no breakout, we recommend a medical cleanse which uses targeted serums and masks to shrink the pores and tighten the skin to look optimal.
Although a great option, the effect tends to last shorter than other procedures so timing is key. We also sometimes combo the cleanse with a laser genesis session to minimize redness and further brighten the skin.
Whether you are walking the red carpet or prepping for a wedding, there are lots of options out there to get your skin just where you want it.
Finding the perfect skin regimen can certainly be frustrating but with a little patience, I promise there is a perfect one for you out there.
Feel free to send any questions or comments to me on twitter (@DGBDerm). Good luck!